SHB DN coach analyses team's performance
Published: February 24, 2016
During his recent interview with reporter Nguyen An from the DA NANG Newspaper, SHB Da Nang's coach Le Huynh Duc expressed his satisfaction with his team's 2-1 home win over Dong Thap last weekend.
However, he also pointed out several shortcomings in the performance of his squad. In particular, following the double from Argentinian striker Merlo, the players were sending too many inaccurate long balls up to the foreign strikers and this provided potential scoring opportunities for their opponents. There was too much space left between SHB's defenders and their midfielders, allowing their rivals to take control of the midfield in the second half. In addition, there was not a good interaction between the midfielders and the Jamaican striker James Horace with the result that he received no passes from which he could score.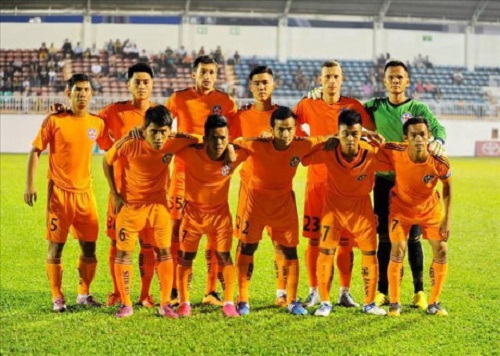 SHB DN players (Photo: Internet)
Coach Duc spoke highly of Merlo's great efforts and his professional skills in the match, despite having had an illness 3 days before the match. He also gave high praise to young midfielder Nguyen Thanh Hai for his strength, impressive skills, and great team spirit in both attack and defence.
He said "Recently, SHB DN defeated HAGL 3-1 in the 3-team international tournament in Pleiku City and we are targeting to maintain our winning streak by beating the team again in the V League match on 28 February".
.