4.3 billion VND for historic relic site
Published: March 17, 2016
Following recent approval by the Da Nang People's Committee, around 4.3 billion VND from the city's budget will be spent on developing the historic relic site B1 Hong Phuoc in Lien Chieu District's Hoa Khanh Bac Ward.
Hong Phuoc (given the secret code name B1) was one of Da Nang's most important revolutionary bases during the 2 resistance wars against the French and the Americans.
The new developments aim to commemorate the heroic martyrs who laid down their lives for the nation, and educate younger generations on the country's history and its traditions. They will also help to create an impressive architectural landmark for the city, and provide a space for organising public activities for local residents.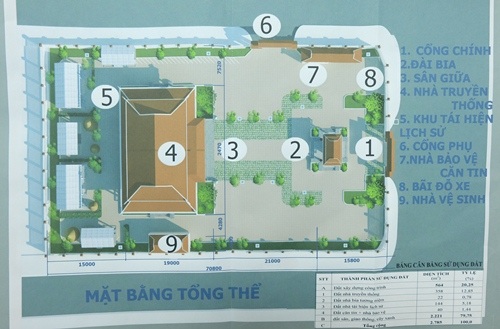 An architect's design for the historic relic site B1 Hong Phuoc (Photo: danang.gov.vn)
The over 2,700m2 historic relic site will feature a garden, a drainage system, and a monument on which will be engraved the names of living heroes and martyrs who laid down their lives for the protection of the nation at the Hong Phuoc War Base. There will also be a traditional house to display artifacts from the resistance wars against the invaders, and a meeting room for the city's Liaison Committee for B1's revolutionary ex-soldiers and war veterans.
Construction work is expected to start on 26 March.

.