59 works win municipal Literature and Arts Awards
Published: March 16, 2016
The Da Nang People's Committee held an awards ceremony yesterday at the Nguyen Hien Dinh Tuong Theatre to honour outstanding local writers, artists and reporters whose works have won 3rd municipal Literature and Arts Awards.
At the event 6 first, 16 second, 21 third, and 16 consolation prizes were given to outstanding entrants.
In particular, 1st place was shared by:
1 The photo 'Dieu Khac Gia Olwin' (Sculptor Olwin) by Ho Xuan Bon
2 The oil painting 'Da Nang Xua va Nay' (Da Nang Now and Then) by Nguyen Trong Dung
3 An architectural design for 'Benh Vien Ung Buou Thanh Pho Da Nang' (The Da Nang Cancer Hospital) by Phan Duc Hai and Nguyen Khac Linh
4 The documentary film entitled 'Con Mat Con Co Duoi' (Portrait of Writer and Journalist Phan Khoi) by artists Huynh Hung, Le Hoang Nam and Nguyen Le Minh
5 The novel 'Minh Su' (The Mastermind) by writer Thai Ba Loi
6 Artiste Phan Van Quang who successfully performed 3 characters: King Ly Cong Uan in a play named 'Doi Do' (Moving the Capital), hero Hoang Dieu in the classic drama 'Hoang Dieu', and Dao Phi Phung in the classic drama 'Dao Phi Phung'.
Reporter Dang Van No from the Da Nang Newspaper was one of the 21 third-placed winners for his photo entitled 'Em Be Cotu' (A Co Tu Ethnic Minority Girl).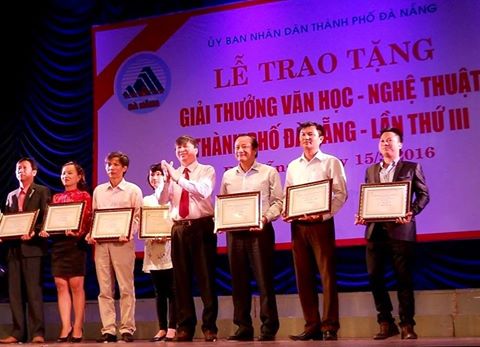 Outstanding writers and artists receiving their prizes
.