Da Nang Hot Spring Park to open soon
Published: March 21, 2016
The new Da Nang Hot Spring Park in Hoa Phu Commune, Hoa Vang District, will officially open to the public on 26 April to mark the 41st anniversary of the liberation of the South, and the national reunification.
Developed by the DHC Company, the park covers an area of 165,537m2 and cost around 500 billion VND to create.
Visitors to the park can enjoy special hot minerals, mud, herbal, tea, milk and beer bath services to refresh their body and mind. The park also features a 4-star restaurant and hotel complex.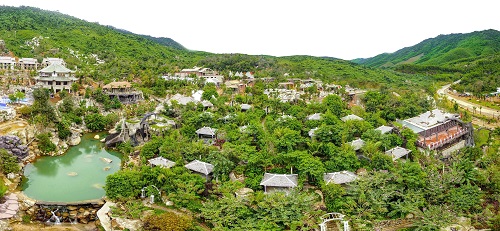 An architect's model of the Da Nang Hot Spring Park (Photo: http://www.dhcgroup.vn)
The Deputy Director of the city's Department of Culture, Sports and Tourism, Mr Tran Chi Cuong, said "The project will help to fully tap the great tourism potential of the city and expand tourism into the western side of the city".
.