Da Nang in high gear for Asian Beach Games
Published: March 25, 2016
Da Nang is gearing up for the 5th Asian Beach Games (ABG 5) scheduled for September 24 – October 3, according to the municipal Department of Culture, Sports and Tourism.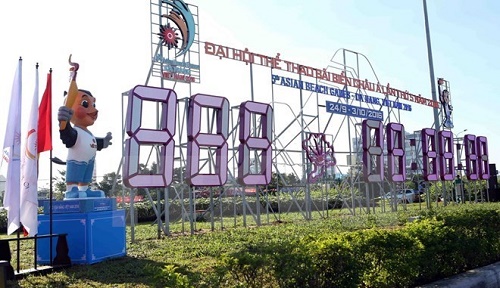 The countdown timer to the 2016 ABG in Da Nang (Source: VNA)
The local authorities have already established an organising board and nine sub-committees to prepare for the event.
The ABG 5 will host events in marathon swimming, water polo, kabaddi, men's beach football, volleyball, handball, three-a-side basketball, sepak takraw (rattan-ball kicking), beach martial arts (wrestling, sambo, jujitsu, kurash, pencak silat, vovinam, muay Thai and Vietnamese traditional martial arts), shuttlecock kicking, petanque (iron ball bowling), bodybuilding, bowles (wooden ball), rowing and athletics.
There will be 3,000 athletes from 45 countries and territories, including 350 competitors from Viet Nam, rivalling in 14 categories.
Initiated by the Olympic Council of Asia, the ABG first took place in 2008 in Bali, Indonesia and has been held every two years since then.
This will be Viet Nam's first time hosting the Games, a multi-sport Asian-level competition. It has already hosted the Asian Indoor and Martial Arts Games in 2009 and the ASEAN-level competition in the 2003 Southeast Asian Games.
(Source: VNA)
.