Da Nang International Marathon to be held in August
Published: March 18, 2016
The 2016 Da Nang International Marathon (DNIM 2016) will take place at the Bien Dong (East Sea) Park in Son Tra District on Saturday 6 August. The competition is expected to attract between 4,000 and 6,500 professional and amateur runners from across the country, plus local residents and international visitors to Da Nang.
The event will be jointly organised by World Marathon Tours Inc, headquartered in Houston, Texas, USA, and the Pulse Active company. It will comprise 3 races: a full marathon (42.195km), a half marathon (21.095km), and a 5km run and walk.
Everyone who finishes the 5km run and walk will receive a Finisher's Certificate, and will be entered in a lucky draw to win numerous attractive items.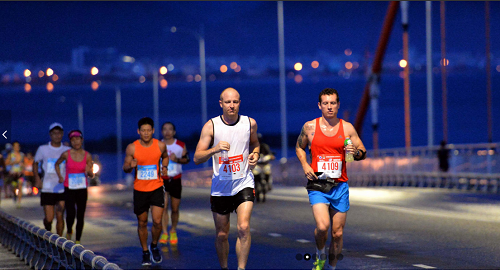 Runners at the DNIM 2014
In response to DNIM 2016, a press conference will be held in the city next month to announce detailed plans for organising the event. Preparation works are scheduled to take place between 15 July and 10 August.
Between 11 July and 7 August, the focus will be on increasing publicity about the race through visual advertising on some major streets, at the city's international airport, and at the Bien Dong Park.
The event will also be publicised on the http://www.rundanang.com website, in local and central press agencies' publications, in online newspapers, and on some popular social networks like Facebook and Twitter. The Da Nang Newspaper will be responsible for publicising the race in its printed and online editions.

.