Da Nang race walker earns Olympic ticket
Published: March 22, 2016
Da Nang's race walker Nguyen Thanh Ngung has earned a place in the 2016 Olympic Games in Rio de Janeiro, Brazil, by satisfying the Olympic standard. He did it whilst competing in the 2016 Asian 20km Race Walking Championships in Nomi City in Ishikawa Prefecture, Japan, on 20 March.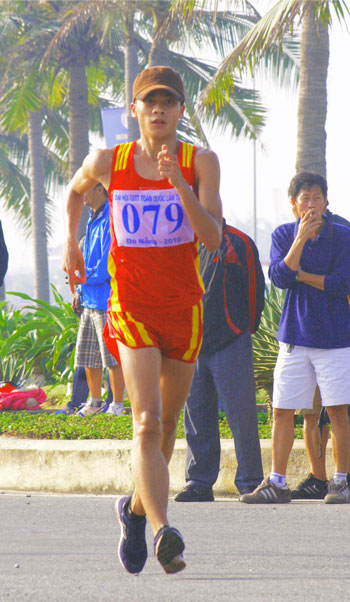 Race walker Thanh Ngung
Ngung finished the men's 20km race in 7th place with a time of 1 hour 23.29 mins, which is 31 seconds faster than the Olympic qualifying standard. He also improved his own Vietnamese national record of 1 hour 26.30 mins.
Ngung's achievement was totally unexpected. The city's coaching board saw their best hope as being Ngung's older sister, Nguyen Thi Thanh Phuc, because she had won gold medals at the SEA Games in 2011, 2013 and 2015. She also represented Viet Nam at the London 2012 Olympic Games. By contrast, her brother Ngung had only brought home the bronze and silver medals in the SEA Games in 2011 and 2013 respectively.
Unfortunately, 'Walking Queen' Thanh Phuc didn't complete her race in Japan due to a rule infringement. However, she has another chance to earn her ticket to Brazil when she competes in the 2016 Asia Masters Athletics Championships in Singapore in late April.
During a recent interview with reporter Bao An from the DA NANG Newspaper, the Director of the Da Nang Athlete Training Centre, Mr Dang Dong Hai, said "We are very sorry about Phuc's disappointment, and we are now making every effort to help her reach the Olympic standard to qualify for the Brazil Olympics. We will also report Ngung's outstanding achievement to the Da Nang authorities. We will cooperate with the Department of Culture, Sports and Tourism and the Vietnamese General Department of Sports and Physical Training to provide Ngung with the best training available in order to help him gain much success at the upcoming Brazil Olympics."
.