Francophone film fest to be held in major Vietnamese cities
Published: March 18, 2016
Vietnamese film lovers will be thrilled when a French-language film festival is organized in three major cities across the country this month.
The 2016 Francophone Film Festival will feature nine of the Francophone community's cinema works in Hanoi, Hue City, and Ho Chi Minh City.
The event, held by Organisation Internationale de la Francophonie (OIF) and Viet Nam Cinema Department, will boast both feature and animated movies from six countries including Belgium, Canada, Egypt, France, Switzerland, and Viet Nam.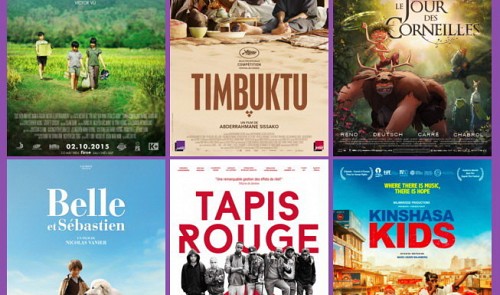 Posters for six of the nine films to be screened at the 2016 Francophone Film Festival in March 2016
Movies on the bill include Timbuktu, Kinshasa Kids, Le Jour De Corneille (The Day of the Crows), Les Oiseaux De Passage (Birds of Passage), Belle et Sébastien (Belle and Sebastian), Tapis Rouge, Asmaa, Le Choeur d'Une Culture, Toi Thay Ho Vang Tren Co Xanh (Yellow Flowers on the Green Grass).
The festival will take place at L'Espace at 24 Trang Tien Street and Cinematheque at 22A Hai Ba Trung Street, Hoan Kiem District, Hanoi from March 17 to 28; IDECAF at 31 Thai Van Lung Street, District 1, Ho Chi Minh City from March 16 to 21; and the Francais Institut (French Cultural Center) at 1 Le Hong Phong Street, Hue City from March 21 to 31.
Tickets cost VND50,000 (US$2.24) and VND40,000 ($1.79) for the festival in Hanoi and Ho Chi Minh City, respectively. The event's Hue edition will be admission free.
The screening schedule can be found at http://festivaldufilm.francophonie.org.vn/.
(Source: Tuoi Tre News)
.