Meet Merlo the Magician
Published: March 11, 2016
What a great decision by SHB Da Nang to give 31-year-old Gaston Merlo one of the 2 available contracts for foreign players this year. Despite his age and his absence from the club last season due to injury, the now-returned Argentinian striker has proved to be the hero of SHB DN's season so far. Their V League statistics say it all:
SHB DN – Played 3 games, scored 5 goals. Gaston Merlo – Played 3 games, scored 5 goals.
Added to that, in previous seasons with the club, he has 3 times been voted Viet Nam's Best Foreign Player of the Year, and was the V League's (and therefore SHB DN's) top goalscorer for the 3 consecutive seasons 2009 - 11.
So who is this football magician? I arranged to meet him at the Chi Lang Stadium to find out.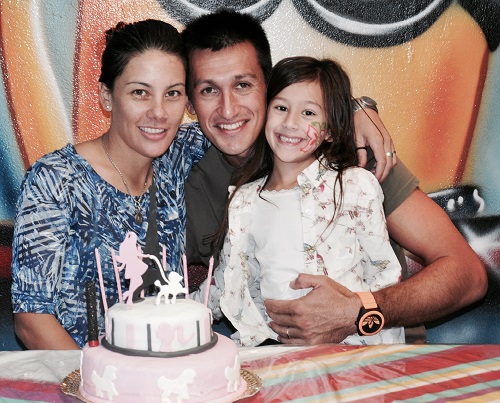 The happy family – Carolina and Gaston with daughter Cala
Sebastion Gaston Merlo was born in Cordoba, Argentina, in 1985 - the younger of 2 brothers. After finishing school at the age of 16, he chose football as his career and he played as an amateur ("for a little pay") in his home area for the next 7 years. His older brother was doing the same, and apparently both owe their talents to their father who was a very good amateur player in his day.
One of Gaston's then teammates had returned to Argentina after playing for a club in Viet Nam, and he spoke endlessly about not only football in Viet Nam but also the lifestyle he had enjoyed whilst here. Gaston decided, with his wife's backing no doubt, to forego the possibility of lucrative contracts in Europe ("My wife didn't want to go to live in Europe") and instead move to Viet Nam, or more specifically Da Nang.
On 1 January 2009 Gaston and his wife arrived in Da Nang and he began his first season with the city's club. A bold and brave leap of faith no doubt, all the more so because Carolina was already over 5 months pregnant! By April the twosome was a threesome – daughter Cala was born, and she is now nearly 7 years old.
Gaston was amazingly successful during his first 5 seasons for the club, scoring in total 83 goals in the V League and many more in the various cup competitions. SHB DN enjoyed the benefit during those years, winning the league in 2009 and then again in 2012, and were runners-up in 2013 in both the league and the cup.
The crunch, quite literally, came early in the 2014 season, and it impacted not only on Gaston but on his wife and daughter too. He injured his knee during a match and, despite initial surgery here, he and his family were forced to return to Argentina. After further surgery there, he recuperated for the rest of 2014 and began playing again last year for the Ferro Carril Oeste team to aid his return to fitness. In 14 games for them, he scored 10 goals.
Finally, towards the end of 2015 he felt ready to return to Viet Nam - but would SHB DN give him a new contract? No problem, they were of course eager to have him back providing he could prove he was fully fit again. After a trial period, a new contract was offered and accepted and this season began with the star striker back working his magic. The management and fans of SHB DN are no doubt more than happy!
I asked Gaston a little about his life in Da Nang, starting first with his working life. On training days he travels across the city to the SHB DN Sports Centre in Lien Chieu District. The team might train there for a couple of hours each day, but the players often stay longer for any medical treatments or to use the reportedly excellent facilities which include sauna, steamroom, hot and cold jacuzzis, a gym, and a restaurant. Some players actually live there, and although Gaston and his family have an apartment in the city centre, he has his own room at the training centre too. Why? Because for the 2 nights prior to any home game he is banished there for reasons best known to management! On the day of a home match, there is 10am team meeting to discuss the match ahead, and then around 3pm they leave the training centre for the Chi Lang Stadium.
Of course, 50% of the season's matches are away from home, and this can involve not only a lot of travelling, usually by air, but several days away from home and family. This weekend is an example. The team leaves Da Nang this afternoon (Friday) to fly to Ha Noi. Tomorrow they train on the Ha Noi pitch, and the match starts at 5pm on Sunday. They return to Da Nang Monday after 3 nights away.
I moved on to ask him about his, albeit limited, time with his family. What does he enjoy doing in his free time? "Going to the beach with my wife and daughter, and just generally being at home with my family," was the honest response of clearly a family man. As regards why they like Viet Nam so much, he commented that the way of life and the weather are better here than in Argentina, and they feel personally much safer. With regard to the future, Gaston hopes that his ageing body (!) and his continuing scoring record will allow him 2 or 3 more seasons with SHB DN. He has no intention of finishing his footballing career anywhere else! Beyond that, he would love to stay in Da Nang and ideally become a football coach for young children.
Finally, I had to ask him about food. "Do you enjoy Vietnamese food?" brought the response "I love it too much". That might either mean very much, or too much for the diet of a footballer! Last of all, expecting a useful tip from an Argentinian who must therefore surely be a connoisseur of beef, I asked him where, in his opinion, I would find the best steak in Da Nang. "At my house, cooked by me." Now I'm left wondering "Was that an offer?"
Thank you Gaston for giving up your time to reveal a little about the lives of you and your family. The readers of DA NANG Today wish you every success both this season and in the future. We also hope that, for you and for our city's team, you continue putting the ball in the back of the net, and maybe you could encourage other teammates to start scoring a few too!
Written by Ian Lister
.