Quan The Am Festival attracts thousands
Published: March 28, 2016
The Quan The Am (Avalokitecvara) Festival took place between 25 and 27 March at the Quan The Am (Avalokitecvara) Pagoda in Da Nang's Ngu Hanh Son District.
In addition to local Buddhist followers and residents, this year's event drew a great deal of attention from Buddhist followers from other localities. Amongst them was Ms Nguyen Thi Than from Quang Nam Province's Dai Loc District. She said "The Quan The Am Festival is a great opportunity for me and other Buddhist followers in the district to pray for good luck and health for our families, and discover the beauty of the Marble Mountains".
The Avalokitesvara Bodhisattva Statue procession, which is the most important Buddhist ritual during the Quan The Am Festival, was held on Sunday morning. It attracted a large number of Buddhist dignitaries, monks, nuns, and followers, along with many locals and visitors.
Apart from this solemn Buddhist ritual, visitors to the festival had the opportunity to enjoy a wide range of exciting cultural activities, including 'bai choi' (singing while acting as playing cards), and a fascinating martial arts performance. There was also a traditional boat race on the Co Co River with the participation of 8 teams from Ngu Hanh Son, Lien Chieu, Thanh Khe and Hoa Vang districts.
Recognised as one of Viet Nam's top 15 national-level spiritual festivals, this annual event is organised on a large scale thanks to the great efforts of the authorities at grass-roots level.
Here are some photos from the exciting event: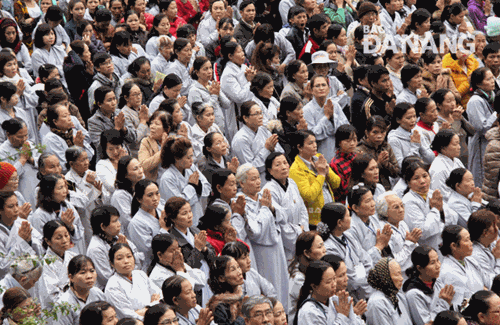 Buddhist followers praying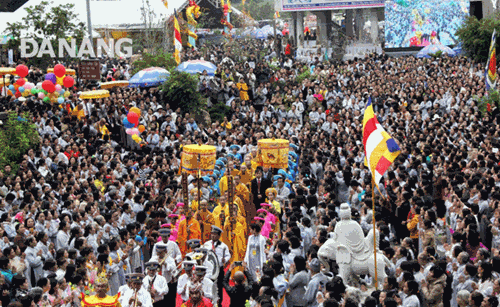 The welcome ceremony for Buddhist monks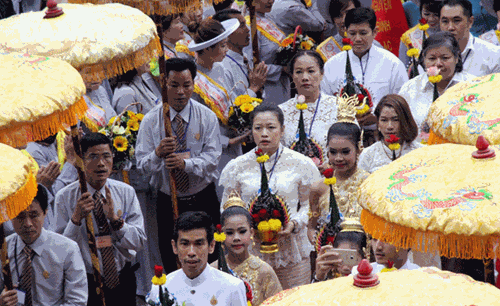 A group from the Kingdom of Thailand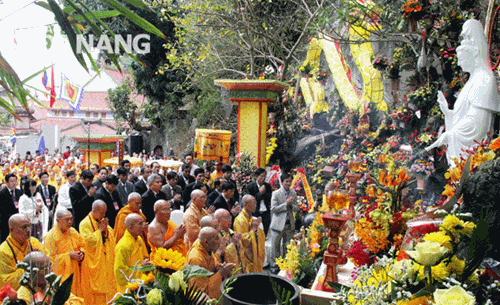 Offering incense to the Avalokitesvara Bodhisattva
Re-creating the image of Avalokitesvara Bodhisattva
.