SHB DN reliant on Merlo
Published: March 01, 2016
SHB Da Nang have made a good start to the 2016 V League season with wins over Dong Thap and Hoang Anh Gia Lai. Their top striker Sebastian Gaston Merlo has been the hero so far as he has scored all 4 SHB DN's goals, and he is currently top scorer in the national V League. This seems to be a happy sign that the 31-year-old Argentinian striker is quickly reintegrating into football after a break enforced by injury. However, it also indicates that SHB DN have come to depend heavily on Merlo, as well as on their other foreign players.
Dong Thap and HAGL were not major worries for SHB DN as they had many young players and lacked skilled foreign strikers, which allowed Merlo to shine. However, SHB DN will have to face many stronger opponents, such as Binh Duong, Thanh Hoa, Hai Phong, Ha Noi T&T and Song Lam Nghe An, during the rest of the season.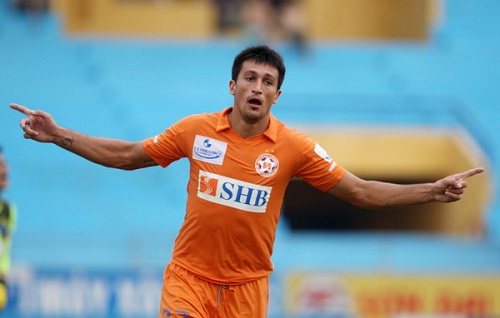 SHB DN's striker Merlo
It is therefore most important for SHB DN to adjust their defensive and counter-attack strategies in order to fully exploit the strengths of their young domestic players, and take advantage of the perfect strike duo of Gaston Merlo and James Horace. If these problems are suitably addressed, SHB DN will soon produce many impressive performances and reach their target of finishing in the top 3 of the 2016 V League.
.