SHB DN's winning streak continues
Published: March 07, 2016
Of the 6 matches played in the 3rd round of the V League this weekend, 4 were drawn so there were only 2 winning teams. Ha Phong was one, and thankfully SHB DN was the other, and these 2 teams now occupy the top 2 positions in the league. SHB DN had a 1-0 win over Sanna Khanh Hoa (SKH) at the Chi Lang Stadium on Saturday.
Although their Nigerian striker Uche Iheruome was not included in the starting lineup due to recovering from injury, SKH took control of the game from the beginning. Their midfield duo of Tran Van Vu and Chaher Zarour closely marked SHB DN's hero Merlo and prevented him from showing off his skills. As a result, an exciting first half ended goalless.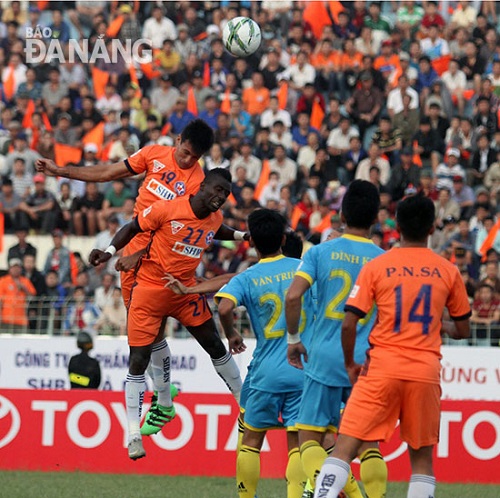 Merlo (19) climbs to head the ball behind teammate Horace James (27)
After adjustments to SHB DN's tactics for the second half, the home team finally scored in the 83rd minute thanks to Argentinian striker Merlo's perfect header into the net from close range. Straight afterwards, in an attempt to change the team's counter-attack tactics, SKH introduced substitute Iheruome, and he helped the visitors to retake control of the game. However, SHB DN hung on to win the match and maintain their winning record.
In the other matches, Hai Phong had a 1-0 home win over Can Tho, whilst Song Lam Nghe An hosted an exciting 3-3 draw against QNK Quang Nam. All yesterday's matches were drawn - Hoang Anh Gia Lai played out a goalless home draw to Quang Ninh, Dong Tam Long An drew 1-1 at home to Binh Duong, and the local derby game Ha Noi T&T v Ha Noi also ended 1-1. The match between Thanh Hoa v Dong Thap was postponed for security reasons.
The matches in the 4th round will take place on 10, 12 and 13 March, with SHB DN away to Ha Noi at 5.00pm on Sunday.
.