Sports sector shows positive results
Published: March 25, 2016
A ceremony was held in Da Nang on Thursday to mark the 70th anniversary of the traditional Viet Nam Sports Sector Day (27 March).
Over the past 7 decades, the city's sports sector has played a vital role in training and providing outstanding athletes for national teams. They have included karate expert Vu Kim Anh, weightlifter Tran Le Quoc Toan, swimmer Hoang Quy Phuoc, race walkers Nguyen Thi Thanh Phuc and Nguyen Thanh Ngung, and football players Vo Hoang Quang, Huynh Quoc Anh and Hoang Minh Tam.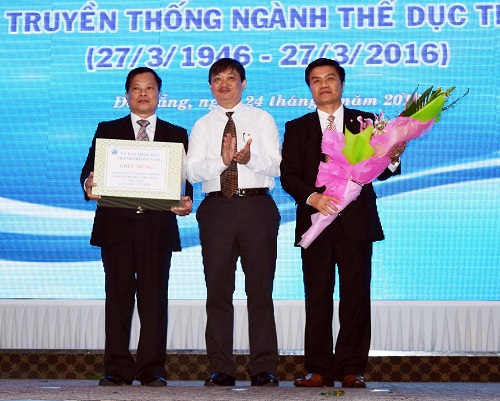 Municipal People's Committee Vice Chairman Dang Viet Dung (middle) presenting a gift to representatives from the city's sports sector
Most notably, Quoc Toan and Thanh Phuc represented Viet Nam at the London 2012 Olympic Games, whilst Ngung recently earned a place in the 2016 Olympic Games in Rio de Janeiro, Brazil, by satisfying the Olympic standard. In addition, the Da Nang team ranked 4th out of 66 teams in the medal table at the National Sports Festival 2010.
These positive results have been partly attributed to the special attention and effective support from the local authorities through building modern sports facilities - the Tien Son Sports Arena, the Diving and Swimming Club, the Taekwondo Practise House, the Dong Nghe Sailing Club, and the soon-to-be-developed Hoa Xuan Stadium. Moreover, many preferential policies for coaches and athletes have been issued.
Thanks to the above-mentioned achievements, the local sports sector has played an important role in advertising the beauty of the city and the image of local people to international friends.
.