Race 9 Day 14: Teams pay tribute to Sarah Young
Published: April 04, 2016
The teams paid tribute to lost crewmate Sarah Young, who was buried at sea at 1202 local time on Sunday after a ceremony on board IchorCoal.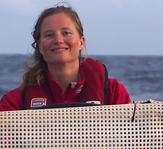 Sarah Young
Whilst the ceremony was taking place on board, the other 11 teams held their own minute's silence, and read the poems and readings from the service.
Darren Ladd, Skipper of IchorCoal, wrote about Sarah's adventurous spirit in his blog yesterday. He said: "Sarah was an adventurer and lived life to the full. She died an adventurer's death battling the elements circumnavigating the globe. I wish we could have said goodbye properly, we all do. The ceremony was for Sarah on behalf of all those that were fortunate enough to know her. Today we said goodbye, but she will always be present in our hearts."
Peter Thornton, Skipper of GREAT Britain, spoke about how he and his team honoured Sarah on Sunday.
"We held a minute's silence today at 1200 and had our own ceremony for Sarah. On deck, dressed in full foulies in the cold wind within a snow shower, enabled reflection over the rough sea very poignant. Another lost ship mate whom we will not forget."
Conditions have still been very difficult over the last 48 hours, with the teams experiencing snow flurries while carrying out many sail changes to stay abreast of the variable conditions.
The yachts were in the wide stream of north-north-west wind coming off eastern Siberia, which explains the extremely cold conditions. The winds will be steady for the next day, then there will be a lighter patch ahead of the next low.
Derry~Londonderry~Doire was still in first place, with Unicef in second place 38 nautical miles behind, and LMAX Exchange in third, 50 nautical miles behind the leader.
LMAX Exchange has passed through the Scoring Gate, but with GREAT Britain's position hidden in Stealth Mode until 1200 UTC and Garmin also heading for the gate, race fans will be kept in suspense for a little longer about who will claim the maximum three points for crossing it first.
Peter Thornton wrote about playing the Stealth Mode card in his blog yesterday: "For us right now, we are continuing to head east to the Scoring Gate which is pretty close - we have also used our Stealth Mode card just to make things a little more unsure for LMAX Exchange and Garmin!..
"Unfortunately we do not have a booster option to go with it (which would be useful right now) so we have to rely on that currently very shifty wind, which is moving both in strength and direction quite regularly on the beam which can make a big difference in performance. However, not long enough to make a suitable sail change - which is making things a little 'variable'.
"After the gate we will of course be looking further out and looking to reel in those chaps who've been making good ground further south of us! It's a long way yet guys and girls!" Peter added.
Dan Smith, Skipper of Derry~Londonderry~Doire, explained why his team had decided to not go for the Scoring Gate in his report yesterday.
"We spent the night under staysail and main after a windy day yesterday shaking reefs out throughout the night as the wind eased to about 30 knots. Finally we could carry the Yankee we had lashed down on deck which got hoisted soon after first light.
"We are now making good speeds towards Seattle and you'll be able to see by now that we are not attempting to go to the Scoring Gate. We decided it would be too much of a diversion from our southerly route and there are enough obstacles between us and Seattle without extra imaginary points to sail around," Dan added.
(Source: clipperroundtheworld.com)
.