Han River landscape designs assessed
Published: November 25, 2016
On Thursday, Da Nang People's Committee Chairman Huynh Duc Tho attended a meeting to assess the entries in an international contest to design the landscaping alongside the Han River.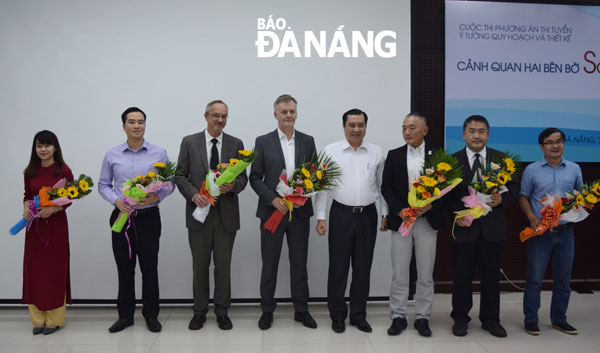 Chairman Tho (white) and representatives from competing consultancy units
Chairman Tho remarked, "The municipal authorities have invited many famous design units from both home and abroad to participate in this international-level contest. It provides a great opportunity for those who love Da Nang to submit their ideas for landscape improvements along both banks of the river in order to develop them as popular attractions in the future."
The city leader also underlined the need for entrants to promote local historical and cultural traditions, and ensure a harmonious combination between the project's modern architectural innovations and the preservation of the natural values of the river. This aims to ensure sustainable economic development for the city.
Some selected entrants presented their ideas at the event. In particular, the first group of designers left a deep impression on the contest's Selection Council with their 'Green Han River' entry.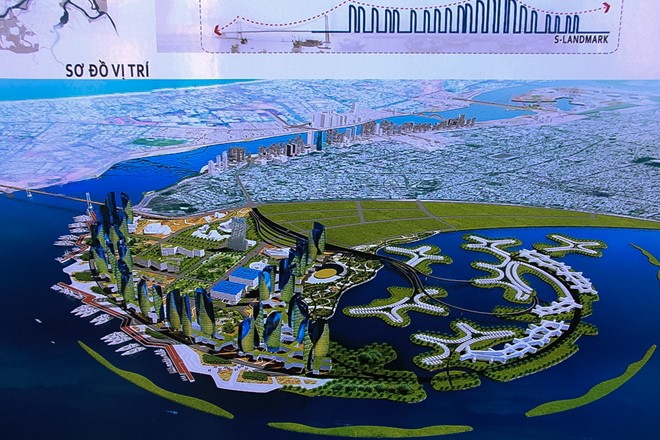 A competing entry (Photo: Internet)
The second architectural design depicted the river as a symbol of the developing urbanisation and climate change. The work featured a harmonious combination between the modern and traditional characteristics of the city in order to create a peaceful space in the upstream parts of the Cau Do River.
The third idea proposed that there should be no more bridges built across the river because there are already many architectural works along the river, including beautiful bridges and tall impressive buildings. This conveyed the message of helping the Han River to have its own identity, and making it a picturesque landscape.
The fourth group of designers wanted to develop the river into a 'green corridor' by setting up a green area.
During the first 12 days after the launch, the contest's organisers received 39 registrations from 13 domestic registrants, including 4 from Da Nang itself, 12 joint ventures between Vietnamese and foreign businesses, and 14 joint ventures from international businesses.
The international dossiers were from France, Germany, Ireland, Belgium, Spain, Italy, Denmark, Japan, South Korea, Hong Kong, Singapore and Malaysia.
After 2 rounds of selection, the contest's Selection Council has finally chosen the 7 most outstanding projects for further consideration.
.