Renewing arts programmes to attract more visitors
Published: November 28, 2016
Over recent years, Da Nang has seen a significant rise in the number of both domestic and international visitors to the city. However, the city's arts programmes have failed to meet the increasing demand for such entertainment.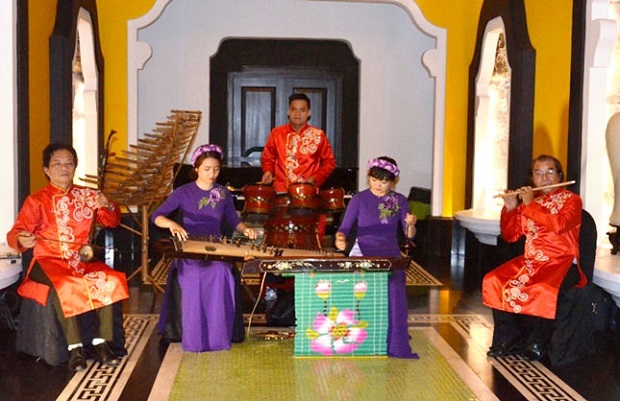 An impressive traditional arts performance
The director of the city's Havi Travel company, Mr Pham Dinh Hoang, said "Recently, a wide range of exciting entertainment and cultural activities has been held along the eastern bank of the Han River. They include the 'Bai Choi' (singing while acting as playing cards) performances, the Tuong (classical drama) street shows, and a fascinating monthly street parade of live music and dancing. However, such events have only been organised at weekends".
Mr Hoang highlighted the vital need for local travel agencies to introduce traditional arts programmes into their tours to help visitors gain an insight into local cultural identities. He also underlined the need for local travel agencies to promote professionalism in the organisation of such events in order to better attract visitors.
Over recent years, traditional Vietnamese musical performances have been held at the Nguyen Hien Dinh Tuong Theatre on Wednesdays and Saturdays for tourist visitors, including international cruise ship passengers. In attempting to attract even larger audiences to these events, the theatre's director Tran Ngoc Tuan has asked local travel agencies to better advertise the city's arts performances as part of their tours.
Recently, the 'Charming Da Nang' programme made its debut at the city's Labour Culture House on 2 September street. The 60-minute programme features 11 delightful singing, dancing and traditional Vietnamese musical instrument performances. Each of them showcases the culture and beauty of Da Nang, and Viet Nam as a whole. Organised by the Sao Hoang Nguyen Company, the events begin daily at 8.00pm at the House in order to serve both locals and visitors. They promise that the audience will have a wonderful time and a memorable experience.
The Deputy Director of the municipal Tourism Department, Mr Tran Chi Cuong, remarked that the city is making every effort to develop even more night time tourism products for visitors. Included are boat tours on the Han River which offer dinners, arts performances, and shopping activities for their guests.


.