Ba Na Hills Resort - Magical Christmas 2016 on until 25 Dec
Published: December 07, 2016
The 'Magical Christmas 2016' festival is taking place at Ba Na Hills Resort until 25 December.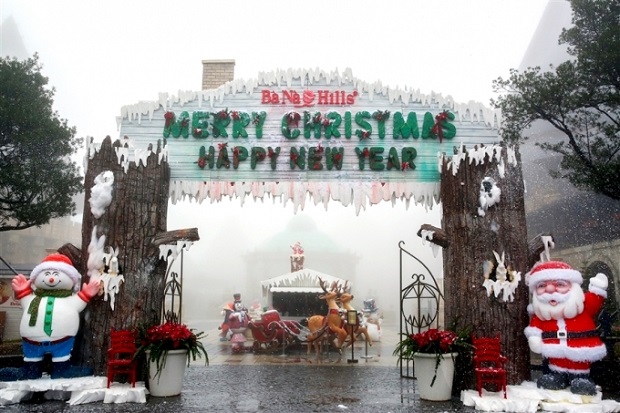 Decorated entrance gate to the festival (Photo: phapluatplus.vn)
The festival promises visitors wonderful times, memorable experiences, and the opportunity to enjoy an early Christmas atmosphere in this venue's typical cool climate.
They will start by stepping into a beautiful magical world of Christmas through a colourful entrance gate of white, red and green. Then they will see many amazing decorated items, including Snow White houses from the Grimm Brothers fairy tales, snow men, clowns, and lovely reindeers carrying Santa Clauses and their gifts.
Both children and adults will be happily surprised by the chance to fulfil their childhood dreams, including receiving presents from Santa Claus and hearing Christmas carols sung at the St Denis chapel twice a day from 22 to 24 December.
The resort's staff members, dressed in Santa Claus outfits, will help visitors to send handwritten letters and Christmas cards to their friends and relatives who are also attending the event.
The festival opens daily until Sunday 25 December. Admission is 600,000 VND per person, which includes the 2-way cable car ticket and entertainment activity fees.


.