e-Firework Contest 2017 launched
Published: December 15, 2016
The e-Firework Contest 2017, a competition for computerised fireworks displays, has been launched in Da Nang.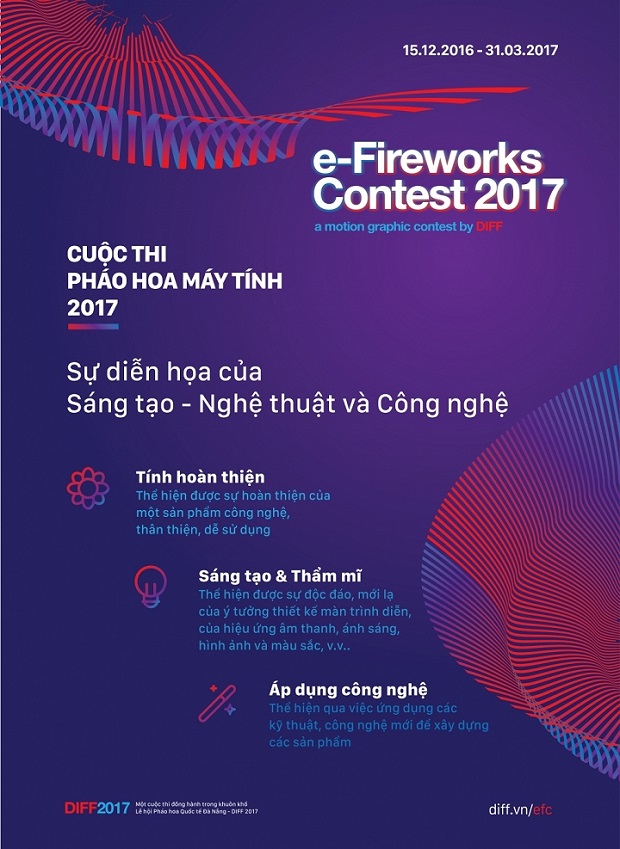 Poster for the contest
The event is part of the Da Nang International Fireworks Festival 2017 (DIFF 2017) which is being held in the city between 29 April and 30 June next year. The aim of the contest is to draw public attention to the DIFF 2017, and to raise awareness amongst local citizens about the significance of IT applications in various aspects of social life.
Entitled 'The Shining Han River', the contest is open to all Vietnamese organisations and individuals who are living and working either in Viet Nam or abroad, plus ex-pats living and working anywhere in Viet Nam.
Entries must depict a computerised fireworks display on the Han River at night with a melodious musical background. They must be developed using fireworks software programmes with such programming languages as C/C++, C#, Java or JavaScript.
Entrants are also allowed to design their fireworks display programmes using popular software development tools including Afterglow, Finale Fireworks, FWsim, ShowSim, Photoshop, Corel, Adobe, Aftereffect and Flash. The use of visual effects software and other image editing tools to adjust photos, sounds, lights, moves and colours is also acceptable.
Entries are required to last between 3 and 5 minutes with H.264 codec featuring AAC audio and MP4 format. Their resolution must be 1920 x 1080 or full HD, whilst frame rates must range from 25fps - 30fps and the audio-frequency band has to be around 44.100hz.
Contestants should register online at the contest's website http://www.diff.vn/efc/. Entries can be sent to either the organiser's email address http://efireworks@diff.vn or to the 13th floor of the Sun City building on 13 Hai Ba Trung in Ha Noi's Hoan Kiem District no later than 31 March next year.
The first prize is 20 million VND, with a second prize of 10 million VND and a third prize of 5 million VND.
Contestants who make the final shortlist will receive a free pair of cable car tickets to the Fansipan Mountain in Lao Cai Province's Sapa Town.
The prize winners will be determined by the contest's judging board in early April 2017, and the Ha Noi-based Vnimation company will work with the organisers to select the winners.


.