Fireworks Festival dates announced
Published: December 06, 2016
A press conference was held on Monday to announce details of the Da Nang International Fireworks Festival (DIFF) 2017 which will take place between 29 April and 24 June 2017.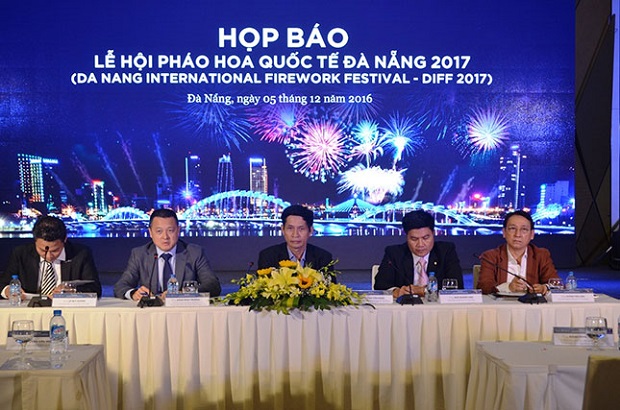 The press conference in progress
Jointly organised by the real estate developer Sun Group and the municipal Department of Culture and Sports, the festival will take 'Toa Sang Ngu Hanh Son' (Shining Marble Mountains) as its theme.
It is expected that 8 teams will participate - Australia, Italy, the UK, Austria, China, Japan, Switzerland and Da Nang-Viet Nam.
The fireworks will be released near the Novotel on Bach Dang on 5 Saturdays - 29 April, 20 May, 27 May, 3 June and 24 June. Two teams will perform each night, but the last date will be the grand finale featuring the 3 best teams.
The spectacular winning display by Team Australia at DIFC 2015
Inspired by the Marble Mountains with their elements of ancient oriental philosophy, the 5 performances nights will be entitled 'Fire', 'Earth', 'Metal', 'Water' and 'Wood' respectively.
DIFF 2017 will be one of the biggest events in Asia next year, and it will feature a wide range of interesting support activities. There will be an electronic dance music (EDM) programme entitled 'You are Shining', the Master Chef Da Nang cooking contest, a street parade of live music and dancing, a 'Beer and Ladies' festival, a festival of Cham culture, a sculpture festival, an international costume show, a photo contest, and a festival for children.
Mr Le Quy Duong, the General Director of DIFF 2017, remarked that performances at next year's event will surprise the audiences with their wonderful lighting effects, colourful fireworks, and melodious accompanying music. Sun Group is hoping to develop DIFF into an international-level cultural event which will attract many visitors from both home and abroad. The festival, which will be held annually, aims to enhance the spiritual lives of local residents and promote the city's time-honoured traditional values.
The Director of the municipal Department of Culture and Sports, Mr Huynh Van Hung, affirmed that DIFF 2017 will be on the largest scale ever, and it will help to secure the city's position as Asia's leading festival and event destination. "It will become a 'must-see' event which will leave a deep impression of our beautiful and dynamic city on all visitors."
Sun Group General Director Dang Minh Truong said that the annual DIFFs will take a different theme each year to create variety. He added that great efforts will be made to lift DIFF's brand name to an international level in order to affirm Da Nang's position on the world tourism map over future years. The city is expecting to welcome 2 million visitors during DIFF 2017, with local hospitality service providers likely to gain the most benefit.
.