Five-year-old piano prodigy Evan Le to perform in Viet Nam this month
Published: December 08, 2016
Evan Le, a five-year-old boy who stunned American TV host Steve Harley with his mad piano skills, will perform in Ho Chi Minh City on Saturday next week in a charity concert.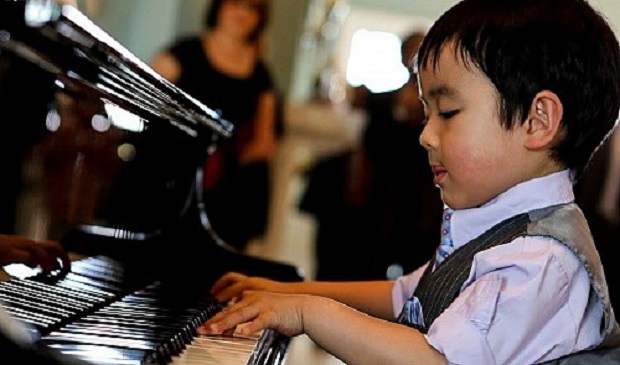 Evan Le recites a piano piece. (Photo: SOUL Academy)
Le is the 2nd child to Vietnamese-American parents in the U.S. state of California.
Born in 2011 in Torrance, California, Le began piano lessons at just 3 years old at the Virtuosos Russian Music Academy in Westminster, California.
He is considered an early talent by instructors at the academy, who praise his ability to recite piano pieces without looking at the music sheet only after a few days of practice.
The prodigy also composes his own pieces from impromptu melodies that form in his head.
Le earned international recognition in March, when he made an appearance in the televised show Little Big Shots produced by American broadcaster NBC, where he stunned host Steve Harley with his recital of two classical pieces.
The boy will return to Viet Nam next week to perform at a Christmas charity concert held in Ho Chi Minh City by SOUL Music and Performing Arts Academy.
The one-night concert will take place in the academy's auditorium in District 3 and the money raised from ticket sales will be donated to the Trinh Cong Son Music Scholarship fund for underprivileged music talents.
Le will perform on a second night in Quang Nam Province's Hoi An two days later to raise money for the Hoi An Foundation.
His parents said they wanted the boy to perform in Viet Nam to expose him to his ancestry through exposure to the local lifestyle and music.
(Source: Tuoitrenews)
.