Hoa Xuan Stadium - new home for SHB DN
Published: December 15, 2016
On Wednesday, the Management Board of Industrial and Civil Engineering Construction and Investment Projects handed over the completed Hoa Xuan Stadium to the Da Nang Department of Culture and Sports.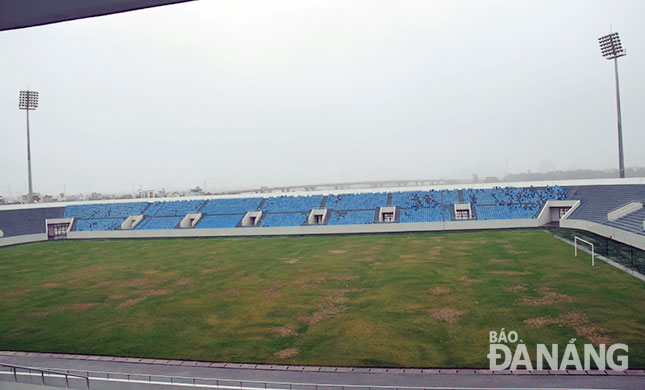 The Hoa Xuan Stadium
Mr Nguyen Huu Hinh, the Director of the Management Board, said "Work started on the Hoa Xuan Stadium on 21 February 2013, and it was fully completed on 30 August 2016. The city's Construction and Infrastructure Development Company (DCID) took responsibility for building the A, B, C and D stands, the football pitch and the surrounding technical systems, at a total cost of over 300 billion VND. The Thanh Lam Sports Company has already installed an electricity supply system, worth around 13 billion VND, for the stadium."
Director Hinh remarked that the stadium is now ready for the opening match of Viet Nam's top-tier V-League 2017 on 8 January 2017. The match will be between SHB DN and Hoang Anh Gia Lai. He stressed, however, the need to speed up the construction progress of some additional items requested by the league's organisers.
Seats need installing in the B stand, whilst 140 super-VIP seats have still to go into the A stand. In addition, anti-riot fences need erecting in the B, C and D stands. The installation of signage, name plates on function rooms, electronic scoreboards, and sound and standby power supply systems, is also to be done.
DCID's Director Tran Phuoc Tuan pledged that his company would provide maintenance services and deal with any unexpected problems arising during the first year after handover.
The 20,000-seater Hoa Xuan Stadium features a 5-tier A stand, single-tier B, C and D stands. In addition, there are drinking, eating and toilet areas, and other rooms. The new stadium's playing surface is planted with US Princess 77 Bermuda grass, and includes a fish-bone-shaped underground drainage system, and an automatic watering system.
Like the Pleiku Stadium in Gia Lai Province, the stadium is only designated for football matches.
.