Hue to turn riverside street into 'boulevard of museum'
Published: December 15, 2016
The administration of Thua Thien - Hue Province's Hue City has plans to turn the riverside Le Loi street into a boulevard packed with museums to showcase the city's culture and history.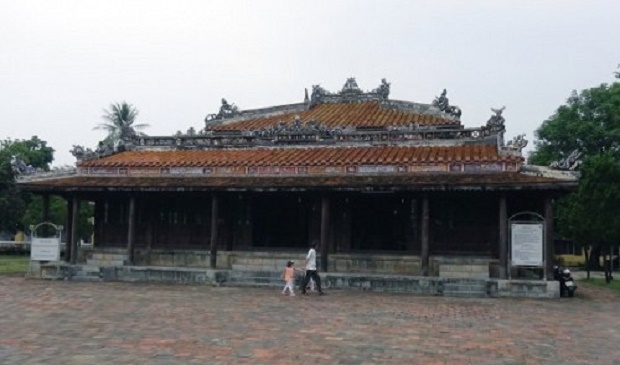 An old palace where the Museum of Hue Royal Antiquities will display its artifacts. (Photo: Tuoi Tre)
The street, which runs along the local iconic Huong River, will house as many as 6 museums upon the completion of the plan, according to the Director of the provincial Department of Culture and Sports, Mr to Phan Tien Dung.
Apart from the Ho Chi Minh Museum and Le Ba Dang Art Center, which are two completed cultural locations on Le Loi street, the province is also looking to upgrade the existing Hue Cultural Museum, Mr Dung said.
The current office of Hue Festival Center will be turned into Diem Phung Thi Sculpture Museum, whilst the office of the city's Tourism Promotion Center will be replaced by an embroidery museum, according to the director.
Le Ba Dang is a Vietnamese-born painter who was listed as one of the most valuable academics of the 20th century by the International Biography Centre at Cambridge University. Diem Phung Thi is a published Vietnamese sculptress who was a member of the European Academy of Sciences and Arts and listed in the Larousse Dictionary of Twentieth Century History.
In a more distant future, the headquarters of the provincial administration, which is currently located on the street, will be moved to the new administration hub in An Van Duong urban area to make way for Hue Museum of Fine Arts, Dung said.
Though the plan came as good news for culture and tourism enthusiasts in the province, many say it is far from complete.
"Just imagine how quiet and boring the street would be at night when the museums are all closed," said Nguyen Xuan Hoa, former director of the provincial Department of Culture and Information.
"I suggest we energize the street by incorporating cultural, artistic activities as well as tourism services."
Hoa proposed the replacement of all administrative buildings on the street with theaters, luxury hotels, and other cultural services to improve the area's appeal.
Chairman of the provincial administration Nguyen Van Cao also unveiled a plan to build a Museum of History and Revolution on a 7,500 square meter land on Dien Bien Phu Street donated by the local military division.
(Source: Tuoitrenews)
.