Key cultural sites to be refurbished
Published: December 21, 2016
Following instructions from the Da Nang People's Committee, the municipal Department of Culture and Sports will be responsible for refurbishing and upgrading several local key cultural sites.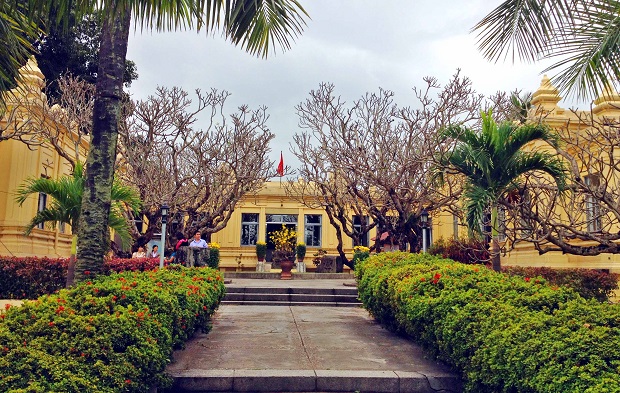 The Da Nang Museum of Cham Sculpture (Photo: Internet)
The department will speed up the refurbishment of the Museum of Cham Sculpture on 2 September street in preparation for the 25th Asia-Pacific Economic Cooperation (APEC) Summit, which will take place in the city next November.
They will also join efforts with relevant agencies to ensure the progress of landscape improvements in public parks on Xuan Thuy, Le Thanh Nghi, Cach Mang Thang Tam and Dang Xuan Bang streets.
They will work closely with the Vietnamese Ministry of Culture, Sports and Tourism to start the building of a national-level centre for circus and synthetic arts in the city as soon as possible in accordance with its commitment to the city. If the project continues to be delayed, the local authorities will revoke its investment licence. Heed will also be paid to ensuring environmental sanitation and landscaping around this site.
Importance will be attached to cooperating with relevant agencies to accelerate the site clearance of 54 families on the western side of the Dien Hai Citadel. The clearance work should be completed within next year to allow the building of a public park and walking area at the site. Also, greater efforts will be made to helping the local authorities develop a project to promote the cultural values of the citadel.
The progress of improving facilities at the Hoa Xuan Sports Complex will be accelerated to ensure effective training activities for local professional athletics. Also, emphasis will be on putting this complex into operation as soon as possible in preparation for hosting some of the matches in the 2017 National Football Championship.
The department will work with relevant agencies to conduct research into the installation of information boards in front of these key cultural construction sites. Attention will also be paid to installing public electric sockets at popular local attractions, cultural sites, and other public areas to better serve locals and visitors.

.