Historical stone monument inaugurated
Published: January 09, 2017
A ceremony recently took place in Da Nang to officially place a stone monument, carved with the words 'The Former Perimeter of the Museum of Cham Sculptures and the Vo Tanh Military Post', near the junction of Nguyen Van Linh, Tran Phu and Le Dinh Duong.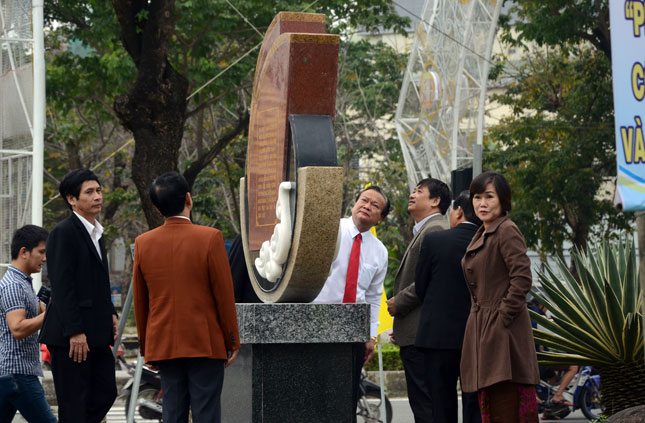 Vice Chairman Dung (3rd right) and representatives from the city authorities beside the monument
The event was attended by municipal People's Committee Vice Chairman Dang Viet Dung and senior revolutionaries from Regiment 96 of the former Quang Nam-Da Nang Special Zone.
The placing of the stone monument was in preparation for the upcoming 20th founding anniversary of Hai Chau District on 23 January. The carving aims to honour the heroic and glorious revolutionary traditions of the city-based armed forces and local residents.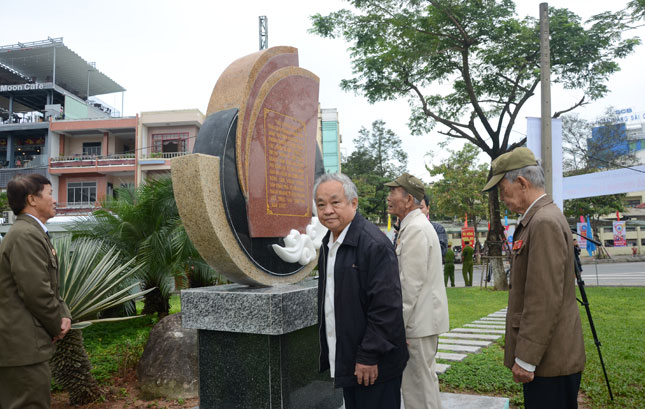 Senior revolutionaries from the Regiment 96 beside the monument
Between 20 and 23 December 1946, at the former perimeter of the museum, military officers and men from Regiment 96, along with local police, militia and local residents, joined efforts to fight against the French invaders. The former Vo Tanh Military Post, which was located at the site of the stone monument, saw the unyielding spirit of local residents, especially women. On 1 August 1954, a large number of local women together demonstrated in favour of the release of their male relatives who had been held in captivity by the invaders at this post.
.