Various attractive cultural activities to be held this year
Published: January 05, 2017
Last year, a wide range of festive and cultural activities were held along both banks of the Han River at weekends and on public holidays, as well as during the city's large-scale events.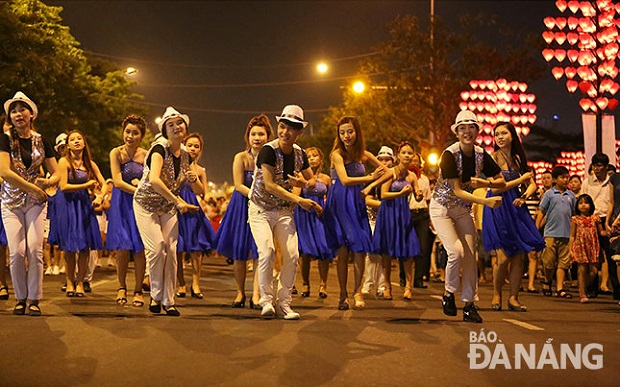 A fascinating street parade of live music and dancing
Such activities included street parades of live music and dancing along Tran Hung Dao, street music programmes on the Bach Dang street riverside walk, and trumpet performances at the western end of the Rong (Dragon) Bridge. In addition, 'bai choi' (singing while acting as playing cards) performances and Tuong (classical drama) street performances at the eastern end of the Rong (Dragon) Bridge in Son Tra District were also organised to introduce local residents and visitors to the traditional arts of the Quang Nam-Da Nang coastal area.
Whilst visiting the city last year, Ms Nguyen Mai Thanh from Ha Noi was deeply impressed by a street parade of live music and dancing. She took the opportunity to take some photos with local dancers and musicians, and remarked "Before I visited Da Nang, I never expected to experience such a fascinating festive atmosphere like this".
The Director of the Nguyen Hien Dinh Tuong Theatre, Mr Tran Ngoc Tuan, said "Last year, a total of 24 Tuong (classical drama) street performances were held on Sundays at the eastern end of the Han Bridge, and each of them attracted up to 750 audience members. Also at the events, visitors were introduced to the art of drawing Tuong masks and the dress codes, and they had the opportunity to have their photos taken in Tuong costumes, which were available for rent at prices ranging between 10,000 and 20,000 VND".
Mr Tuan remarked, "In the past, traditional Tuong performances usually took place at my theatre which offered little public access, especially for local young people. However, the Tuong street performances have now attracted a great deal of attention from local residents and visitors, including local youths. This has been considered an initial success by the theatre in promoting this traditional art form".
Following recent approval by the Da Nang People's Committee, in addition to periodic events, a wide range of new fascinating festive and cultural activities will be held along both banks of the Han River and in other local public areas during 2017.
Included are arts performances for local residents and visitors who are watching the dragon's head at the eastern end of the Rong (Dragon) Bridge breathe fire and squirt water, brass and drums performances every Sunday evening, fascinating 'Weekend Playground' events, and hip-hop and dancing contests.
The Deputy Director of the municipal Department of Culture and Sports, Mr Nguyen Huu Chien, remarked "In 2017, the focus will be on appealing for public investment into the city's festive and cultural activities to ensure quality organisation of such events, and to help investors effectively introduce their products. My Department will also appeal for donations from local families along Bach Dang and Tran Hung Dao in order to make these streets become really attractive cultural spaces in the future".

.