Arts events proving attractive
Published: January 29, 2018
Over recent years, the quality of Da Nang's arts programmes using public investment has been considerably enhanced, satisfying the growing cultural and entertainment demand amongst locals and visitors from both home and abroad.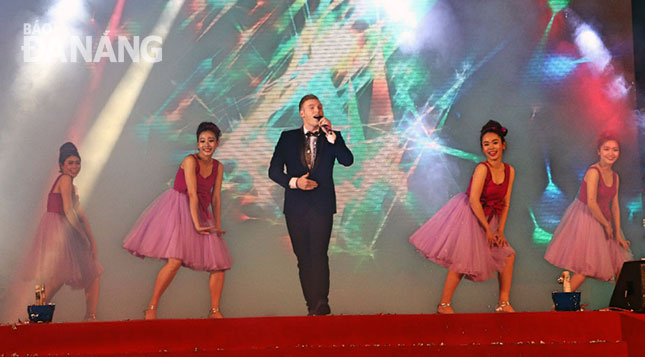 An impressive performance by US-born Kyo York at a recent arts event welcoming in the New Year (Photo: Ngoc Ha)
Notable amongst a recent series of celebrations for New Year were a spectacular firework display near the eastern bank of the Han River, a fascinating musical show at a park near the eastern end of the Rong (Dragon) Bridge in Son Tra District, and the New Year Countdown Party at the 29 March Square on 2 September Street.
Despite wet and cold weather, thousands of locals and visitors enjoyed such free-of-charge, good-quality entertainment events full of excitement in a festive atmosphere.
Nguyen Van Tin, a 2nd year student from the city's University of Architect, eagerly said that he and other local students always grasp good chances to enjoy free-of-charge arts programmes in which many famous domestic artistes join.
In reality, the university students usually find it very difficult to get tickets for similar ones charged with admission fees due to their thrifty budget plans.
It is common to realise that it is not easy for many event organisers to appeal for public investment into such arts programmes.
The Ha Noi-based Vi21 Media, for instance, the organiser of the New Year Countdown Party 2018 encountered some obstacles in seeking sponsors for this event.
To ensure the best possible quality of such an attractive event, Vi21 Media focused on well creating impressive stage, appealing for the participation of renowned artistes, and securing the high quality and aesthetics of performances.
New Year Countdown Party 2018 was considered as a great party of spectacular sound and lights, receiving high praise from the audience members.
Entitled 'Da Nang Chao Xuan' (Da Nang Welcomes in the Spring), the event was not only an attractive cultural event, but it also was a special tourism product and a favourite rendezvous for both locals and visitors.
Nguyen Thi Hoi An, the Deputy Director of the municipal Department of Sports and Culture, highlighted the significance of arts programmes in satisfying the spiritual and cultural life of local inhabitants and visitors.
Deputy Director An vowed that her unit would facilitate local businesses to appeal for more public investment into high-quality arts programmes by helping them complete necessary administrative procedures and seek suitable sites for the organisation of these events.
In addition, local traffic police, medical forces and the district-level authorities will be willing to assist arts events' organisers to ensure their success.
Last, but not least, the city's most prestigious arts experts will also become enthusiastically involved in giving their constructive ideas about the organisation of arts programme which are considered a breath of fresh air into the city's cultural and entertainment life.
.