City-born woman works for well-known South Korean broadcaster
Published: January 23, 2018
Talented woman, 31-year-old Le Nguyen Minh Phuong, who was born and grew up in Da Nang, now lives in South Korea. She now works as a Master of Ceremonies (MC) and video jockey (VJ) for the weekly 'Chuyen Tu Seoul' (Stories from Seoul) programme in Vietnamese broadcast on the KBS World Radio which is Korea's flagship public international broadcaster.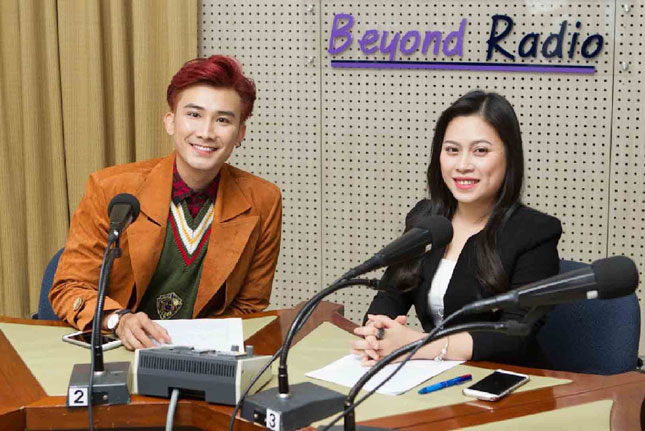 Phuong (right) and her guest 'Chuyen Tu Seoul' at the KBS World Radio
In the spotlight on 'Chuyen Tu Seoul' are impressive stories about Vietnamese people living in South Korea. In addition, the programme introduces listeners to Vietnamese and Korean nationals who have made the significant dedication to the relations, cultural, economic, political exchanges between the 2 countries.
Phuong began settling down in South Korea in September 2013 to attend a 2-year Master Course in teaching the South Korean language at the Seoul-based Yonsei University, one of the most prestigious in this foreign country.
Afterwards, the strong-willed woman became actively involved in programmes organised by the overseas Vietnamese community in this country, and she was the Deputy Chairman of the Vietnamese Students' Association in South Korea for the 2015 – 2017 tenure.
Phuong is now learning at the Yonsei University for a Doctorate degree, and she is a lecturer at the Namseoul University, a private university located in Cheonan.
Notably, Phuong has worked as an interpreter for many delegations of Vietnamese officials during their working trips to South Korea.
In November 2013, Phuong was invited as special guest on an edition of 'Chuyen Tu Seoul', and interestingly, many months later, she had the luck to become a MC for this popular programme.
Each 'Chuyen Tu Seoul' edition has an average duration of only between 15 and 28 minutes. In an attempt to produce the best possible editions, Phuong always spends so much time, even one month, on selecting and interviewing guests, and then announcing and commenting on videocassette recordings.
Apart from earning money to cover her living expenses in her adopted country, Phuong's active engagement in 'Chuyen Tu Seoul' shows off her strong passion for advertising the lives of the Vietnamese community in South Korea, as well as introducing natives of this foreign country to the distinctive cultural values of Viet Nam.
Impressive stories on 'Chuyen Tu Seoul' help to pass a torch of fresh spiritual vitality and power onto overseas Vietnamese so as to encourage them to uphold the spirit of solidarity, and become more actively involved in cultural exchanges for the sake of the fruitful relationship between the 2 countries.
South Korea has emerged as one of the world's top destinations for Vietnamese brides, and many of them now enjoy marriages full of joy and happiness with their wonderful husbands. Phuong once interviewed a lucky Vietnamese bride who feels very pleased with her happy marriage life in her adopted country.
Given the great significance of 'Chuyen Tu Seoul', Phuong vowed that she would continue joining in this inspirational programme, and she also plans to implement some cultural cooperation projects between South Korea with Da Nang, and Viet Nam as a whole, in the coming time.
.