'Colours of Japan' to bring unique experiences for Vietnamese audience
Published: January 10, 2018
The programme 'Colours of Japan', which will be aired on VTV3 of the Vietnam Television (VTV) from 19 January, is expected to bring unique experiences for Vietnamese audience on the early days of 2018.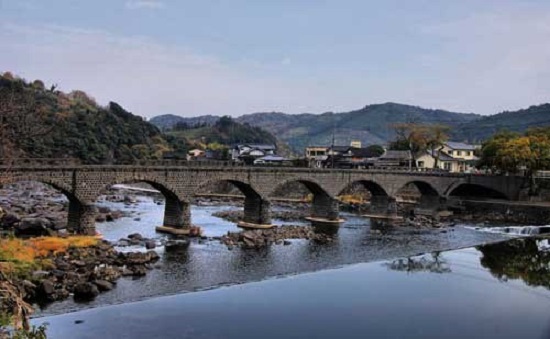 Yabakei Bridge, the longest arched stone bridge in Japan, Oita prefecture (Source www.japanvisitor.com)
The programme is jointly produced by the VTV and the Tokyo Broadcasting System (TBS) as part of the activities to celebrate the 45th anniversary of Viet Nam-Japan relations.
Tourism will lie at the heart of the programme, the 3rd of its kind, according to Head of the VTV International Cooperation Department Ho Kien.
The 6-episode programme, lasting 30 minutes each, will take the audience to Japanese prefectures of Chiba, Shizuoka, Oita, Nagasaki and Yamanashi to explore breathtaking natural scenery and world-class architectures such as the biggest stone Buddha statue in Chiba, the largest tea-growing area in Shizuoka, and the longest stone bridge in Oita.
Addressing an introduction event in Ha Noi on Tuesday, the Envoy of the Japanese Embassy in Viet Nam Nagai Katsuro said the programme aims to further deepen the cooperative ties between the 2 countries.
The Government of Japan wants to cooperate with Viet Nam, including the VTV, to host activities to mark the 45th anniversary of the bilateral relations, he added.
He hoped more Vietnamese people will come to Japan to explore its cuisine, culture and natural landscapes.
The programme was first held in Viet Nam in 2016, featuring land and people of Japan, whilst the 2017 show focused on the theme of Viet Nam-Japan gastronomic exchanges.
(Source: VNA/ DA NANG Today)

.