Devoted artiste with 50-year career in 'Tuong'
Published: January 17, 2018
People's Artiste 68-year-old Tran Dinh Sanh, the former Director of the Da Nang Nguyen Hien Dinh 'Tuong' (Classical Drama) Theatre, has a strong passion for his lifelong career: 'Tuong' artiste, despite showing his age.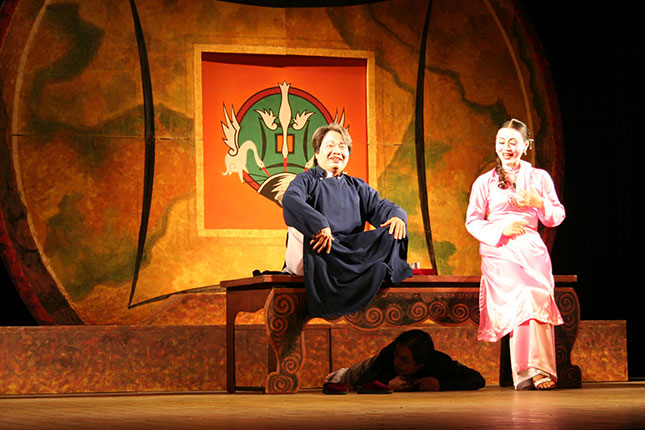 People's Artiste Sanh performing traditional 'Tuong' extract
Unfortunately, 2 years ago, People's Artiste Sanh was seriously injured in a horrific traffic road accident on his way home after a regular examination at hospital.
Despite this devastating blow encountering him, the strong-willed man took the trouble to undergo numerous rehabilitation activities with physical therapies. Thanks to his strong determination and great endeavour, Mr Sanh's health recovered gradually, and he resumed his job.
Mr Sanh usually comes to the work place of the theatre's troupe on To Hien Thanh Street in Son Tra District where he wholeheartedly helps and encourages young artistes to enhance their professional skills and maintain sentimental attachment to Tuong.
The devoted artiste has always highly respected by his colleagues for his work ethics, devotion, and especially his nearly 50 years of experience in this form of state performing arts.
In 1967, at the age of only 17, Mr Sanh pursued his dream of being enrolled into the national revolutionary army to fight against foreign invaders at that time.
Because of his poor physical state, he was unable to serve as soldier. Fortunately, he had a chance to be recruited into the newly-established Quang Nam Province's Liberation 'Tuong' Troupe which was the forerunner of the Da Nang Nguyen Hien Dinh 'Tuong' Theatre.
After that, the Troupe was respectively renamed the Tuong troupe Zone 5 before 1975, and the Quang Nam Tuong Arts Troupe after 1975. In November 1992, the Quang Nam - Da Nang Provincial People's Committee decided to establish the Nguyen Hien Dinh Tuong Theatre by merging the Tuong Research Board and the Quang Nam Tuong Arts Troupe.
Over the past year, People's Artiste Sanh has made the great dedication to this centuries-old traditional Vietnamese arts form.
In particular, he has become 'silently' engaged in either writing or editing scripts for new Tuong plays whilst keeping intact the authentic spirit of the traditional 'tuong' arts form.
Thanks to the significant efforts made by Mr Sanh and his colleagues, numerous Tuong plays performed by the Theatre's artistes have won many notable prizes at national-level professional contests. Notably, over recent years, the Tuong street performances at the eastern end of the Han Bridge have attracted great deal of attention from locals and visitors.
The People's Artiste has always wished to maintain his good health to pass the torch of passion onto young artistes as well as to share his valuable career experiences to them. Like Mr Sanh, other experienced 'Tuong' artistes are now doing their utmost in a bid to prevent 'Tuong' from being ignored, especially amongst the youth, in today's era of deeper integration and globalisation.
'Tuong' is part of the traditional spiritual heritage of the nation. The Vietnamese classical drama originated in the 12th century, especially strongly thrived in the 17th century.
This arts form requires performers to practise very hard. To perform movements well, artistes must use the whole body, from the fingers and elbows to all the muscles. If performers do not have a strong voice, they will not be able to sing songs for classical drama and express the emotions of each character. It is common to see Tuong artiste impressionably express the character's emotional feelings through a multitude of facial features, steps and hand movements.
.