Passing torch of love for sea and islands onto pupils
Published: January 18, 2018
Over recent years, many junior and senior high schools in Da Nang have implemented numerous practical programmes to educate their pupils about the traditional patriotism and their deep pride in their Fatherland's sea and islands.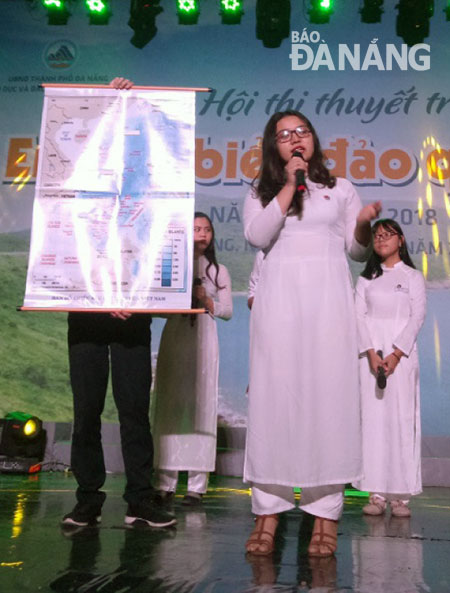 An inspirational presentation at the eloquence contest 'I Love the Fatherland's Sea and Islands'
The meaningful programmes have helped the pupils thoroughly grasp sea-related issues especially to Viet Nam's sacred sovereignty over the Hoang Sa (Paracel) and Truong Sa (Spratly) archipelagos which are inseparable 'blood and flesh' parts of Viet Nam.
History teacher Phan Van Quang from the Tran Phu Senior High School happily said that that his lessons on the city's history usually highlight information on the Hoang Sa Archipelago. His history lessons really spur the enthusiasm amongst pupils to get involved in learning process. They, hence, are more vivid, more engaging and certainly more productive.
One of Mr Quang' pupils, 12th grader Nguyen Thi Xuan Ly, shows her keen interest in such meaningful lessons from which she can learn more about the beloved Hoang Sa and Truong Sa archipelagos.
She added that, in 19 January 1974, China completed their illegal military occupation of Viet Nam's Hoang Sa archipelago. Despite this, each Vietnamese citizen always keeps in mind that Hoang Sa is an integral part of Viet Nam.
In a similar vein, the Hoang Hoa Tham Senior High School has also added the knowledge on Da Nang's history, especially on the 2 archipelagos, to the official syllabuses, mainly in the subjects of History, Literatures and Geography.
Furthermore, interesting extracurricular activities help this school's pupils have a deeper insight into the valuable values of the 2 archipelagos.
Over the past years, the municipal Department of Education and Training has organised many programmes highlighting the country's sacred sea and islands for local pupils.
The Ngu Hanh Son District's Education and Training Office recently launched a programme, entitled 'Gop Da Xay Dung Truong Sa' (Contributing Bricks to Build Truong Sa Islands).
Under this programme, a total of 72 outstanding primary, junior and senior high school pupils across the city visited the officers and men at the city-based Zone 3 Naval High Command. During their trips, these participants, in person, presented a total of 32 million VND, donated by local pupils, to these naval soldiers.
The recent city-level eloquence contest 'Em Yeu Bien Dao Que Huong' (I Love the Fatherland's Sea and Islands), exclusively for junior and senior high school pupils, also received high praise from the general public.
The Department's Director, Mr Nguyen Dinh Vinh, remarked that meaningful activities mentioned above aim to help local pupils enhance their knowledge of the country's history and fine traditions, as well as promote their healthy lifestyles and behavioral skills.
Most notably, these programmes are good ways to encourage them to uphold the spirit of patriotism, and raise their sense of responsibility in the country's unceasing righteous struggle for its sovereignty over its sea and islands.
Over the past 3 years, 2 documentary books on the city's history, compiled and issued by the municipal Department of Education and Training, have been used in the History syllabus for local junior and senior high schools.


.