The tea that mesmerises drinkers
Published: January 17, 2018
Tea has been an essential part of Vietnamese life for thousands of years. It is believed that the refreshing beverage not only calms the mind, but also helps ward off a number of common diseases.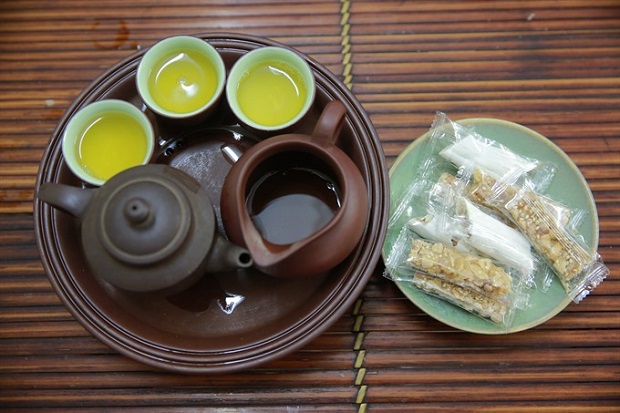 A treat: Tea can be served with sesame and peanut candies to increase the sweet taste (Photo: VNS)
Tea drinking is a daily habit of Vietnamese. Tea is served at formal and informal meetings, during meals and a gathering of friends. Offering a cup of tea also expresses hospitality and friendliness.
When talking about tea and the place of perfect tea products, most Vietnamese people mention Tan Cuong Commune, Thai Nguyen Province, as the first destination.
Tan Cuong tea scores high in the international market. This highland district is well-known in Viet Nam for its cultivation of aromatic tea for 100 years.
This special product from Tan Cuong Commune possesses a delicious taste that can mesmerise even the choosiest tea drinkers. The first sip leaves a bitter taste on the tip of the tongue, but that taste immediately transforms into a deep sweet flavour when the tea is swallowed.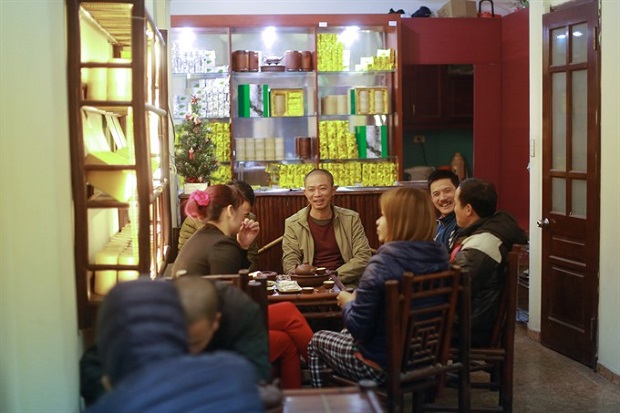 Gather round: In the chill of winter, a group of friends can sit around a tea table, effusively praise the taste of a hot cup of tea and enjoy talking (Photo: VNS)
Located in the red-brown soil of the midlands mountain area, Tan Cuong is highly suitable for tea bushes. The soil is slightly acrid, which gives the tea a taste found nowhere else, according to PhD Nguyen Lan Anh from the Ha Noi Tourism College.
"The natural characteristics and climate conditions favour Tan Cuong Commune with wonderful tea products," said Anh.
"Besides, the experience and technique of local farmers in growing and processing tea leaves creates a specialty that people enjoy down to the last drop."
Currently, the province has nearly 1,500ha of tea which produces 19,000 tonnes of tea buds a year.
"Tan Cuong tea is exported to many countries, including Russia, the United States and Japan," she said.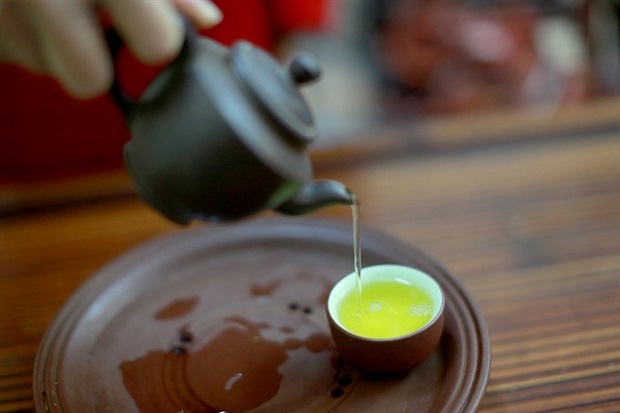 Precious: Connoisseurs use pottery kettle and cups to preserve the original taste and scent of tea (Photo: VNS)
Tea is the strategic product of Thai Nguyen Province. In recent years, tea bushes have provided high economic value and jobs for thousands of farmers.
That's why local people strive to make high quality products and build up a prestigious brand.
"Tan Cuong Tea is totally fed with organic fertilisers and is free from pesticides and plant protection chemicals harmful to human health," said Đam Hong Quang, owner of Viet Co Tra brand, which produces and sells Tan Cuong tea.
"Tan Cuong tea is picked with the standard 'one bud, two leaves', the best part of a tea bush, to ensure the best quality," he said.
The leaves are processed using traditional secrets. After being picked, green tea buds are stored carefully until they reach perfection, then delivered to the factory for processing, where they are dried and roasted several times in large pans.
It is necessary to evenly and smoothly stir the leaves to soften them and preserve the natural green colour. The dried tea is packed in vacuum bags, which are thick enough to keep all light and air out.
To make 1kg of dried tea, 20 workers have to collect tea buds for two hours early in the morning.
Fragrant: While drinking tea, we should enjoy both the scent and taste of tea (Photo: VNS)
"During the picking, if it rains heavily or the sun is scorching, the taste of tea will change," said Quang.
"It can be more bitter or the colour of the tea may be not green. Some people drink tea mixed with dried roses, lotuses or daisies."
However, Quang prefers drinking pure Tan Cuong tea to enjoy its full fragrance.
"Tea is good for your health," he said. "Throughout its history, tea has been associated with important health benefits. Many studies show that tea contains a high level of antioxidants, vitamins, minerals, and mild stimulants."
You don't need to be a connoisseur to enjoy tea. In the chill of winter, a group of friends can sit around a tea table, effusively praise the taste of a hot cup of tea and enjoy talking. The world shrinks to the people around the kettle. The sweet taste of tea and kẹo lạc (peanut candy), which is often served at a tea party, can linger on your lips for a long time.
(Source: VNS/ DA NANG Today)
.