Photos on APEC Year 2017 opens in city until next Monday
Published: February 02, 2018
A total of more than 60 photos of activities within the framework of the APEC Year 2017 are being displayed at the the Museum of Da Nang until next Monday, 5 February.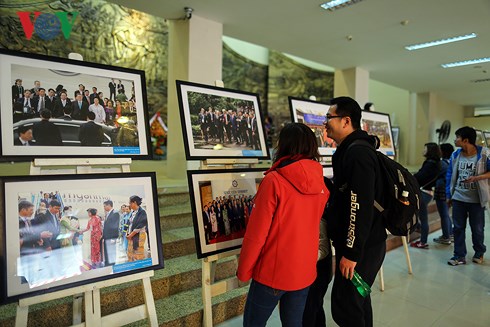 Visitors admiring the displayed photos at the exhibition (photo: VOV)
The event is being jointly organised by the Department of Culture and Sports and the Union of Literature and Arts Associations in Da Nang.
The displayed photos capture such major APEC events as APEC Senior Officials' Meetings (SOMs), the APEC Concluding Senior Officials' Meeting (CSOM), the Viet Nam Business Summit, the APEC CEO Summit, the 29th APEC Ministerial Meeting, welcome ceremonies for APEC leaders, and other sidelines activities.
The Director of the Museum, Mr Huynh Dinh Quoc Thien, remarked that the exhibition reflects the common interest of the APEC member economies in seeking new momentums for regional integration, linkage and economic growth and in fostering a shared future of peace, stability, development and prosperity.
It also contributes to affirming the prestige and position of Da Nang, and Viet Nam as a whole, in regional and international arenas, especially Asia-Pacific, he added.
This was the second time Viet Nam had hosted the APEC Year, with the peak being the APEC Economic Leaders' Week in Da Nang.
Hosting the APEC Year 2017, Viet Nam was the first country to welcome Chinese Party General Secretary and President Xi Jinping right after the 19th Congress of the Communist Party of China, and US President Donald Trump in his first year of office.
On the occasion, the country established comprehensive partnership with Canada, held nearly 50 meetings and exchanges with leaders of APEC member economies to continue upgrading bilateral ties.
Foreign friends praised outstanding activities during the APEC Year 2017 hosted by 10 cities and provinces nationwide, which afforded them a chance to learn about local culture, people and specialties in the country.
As many as 20 documents were adopted during the year, eight of them were approved during the APEC Economic Leaders' Week.
In particular, the Da Nang Declaration on promoting free and open trade and investment and supporting multilateral trade reaffirmed APEC's key role as growth dynamism that initiates economic connectivity initiatives and a leading economic cooperation mechanism in the region, according to Permanent Deputy Foreign Minister Bui Thanh Son, who is also Deputy Chairman of the APEC National Committee 2017 and Chairman of the APEC Senior Officials' Meeting 2017.
During the event, Viet Nam held a dialogue between APEC leaders and ASEAN for the first time, thereby facilitating collaboration between the two mechanisms to create a new driving force for regional growth and connectivity. Viet Nam was also the first host country to be invited by G-20 to join all activities during the year.
(Source: VNA/ DA NANG Today)
.