Vietnamese midfielder Quang Hai temporarily tops AFC U23 best goal list
Published: February 01, 2018
Vietnamese midfielder Nguyen Quang Hai is currently taking the lead in a poll of fans on the best goal of the Asian Football Confederation (AFC) U23 Championship that ended in China last week.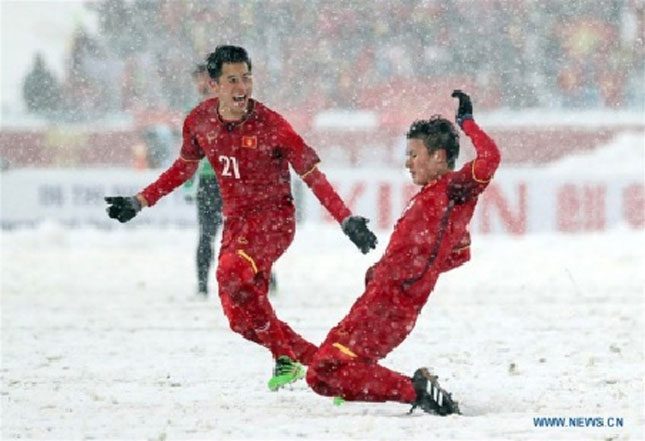 Hai (righ) and his teammate during the final game
The poll was officially launched on the official AFC website at http://www.the-afc.com on 29 January.
The AFC has put 10 'sensational strikes' of the championship on its website for football lovers to vote for their favorite one.
Two out of 5 goals by Hai are shortlisted for the best goal list, with one currently leading the poll.
As of 11.00am today, 1 February, the 20-year-old Vietnamese midfielder's stunning free kick into the top-left corner in the final game against Uzbekistan, performed with his magical left foot in the snowy weather, had received over 134,000 votes, equivalent to 63.8% of the total.
Meanwhile, Hai's left-footed equaliser at 2-2 against Qatar in the semifinal game had won over 51,800 votes, equal to 24.6%.
The Vietnamese start scored a total of 5 goals in the championship, behind only Almoez Ali of Qatar who finished as top scorer with 6, making him one of the top scorers at the Asian championship.
In particular, all of Hai's goals played a crucial role in Viet Nam' matches against their Asian rivals in this tough tournament.
The other shortlisted goals for the AFC vote are that of Uzbekistan's Azizjon Ganiev against South Korea; Mohammed Jaffal of Iraq against Malaysia; Qatari Almoez Ali against China; Baha Faisal of Jordan against Saudi Arabia; South Korea's Han Seung-gyu against Australia; Danial Amier of Malaysia against Saudi Arabia; Mohanad Fannoun of Palestine against Thailand; and Uzbek Jasurbek Yakhshiboev against South Korea.
Fans can start the vote for their favorite one at http://www.the-afc.com, and following specific instructions.
The AFC does not say when the vote ends.
As of 11.00 pm on Tuesday, January 31, the vote results were as follows.
In his recent review article, sports commentator Scott McIntyre from the Fox Sport Asia, picked his best players from the last three weeks of riveting action in China. He remarked that Hai, a graduate of the excellent youth setup at Ha Noi FC, showed off his grace and ease on the ball, and this is the case with much of this outstanding technical generation of Vietnamese talent.
"The difference was that when things were truly on the line he stepped up with some moments of pure magic, scoring the winner against Australia in the group stage, a brace that single-handedly dragged his side back into the semifinal clash with Qatar and that superb free-kick that squared things up in the final – a player of immense talent", said Scott McIntyre.
.