Decorating power poles with drawings to stop illegal advertisements
Published: October 17, 2018
The Youth Union organisation of Thanh Khe District's Tan Chinh Ward, Da Nang, has developed an idea of decorating power poles across the locality with drawings.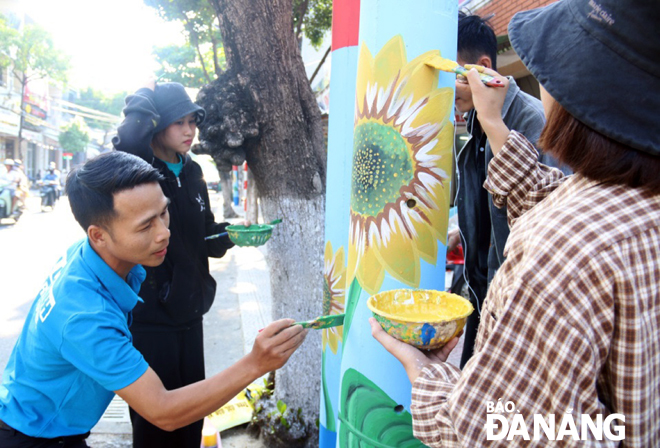 Youth Union members in Tan Chinh Ward, plus students from the Duy Tan University, drawing on power poles along Hai Phong Street
The intention is to make local streets more beautiful, prevent advertisements from being stuck illegally on power poles, and ensure the urban aesthetics.
This idea has quickly received enthusiastic response from the local authorities and residents, especially young people.
Accordingly, Hai Phong Street has been piloted to realise the organision's idea.
Over recent days, the ward's Youth Union members, plus students from the Duy Tan University, have been actively engaged in removing illegal advertisements on power poles along Hai Phong Street and creating beautiful drawings on these poles.
Phan Thi Phuong, a first year student from the University's Faculty of Architecture, said she and her friends have created street wall murals many times, so it finds very easy to draw on power poles.
In addition, a Phuong's classmate, Nguyen Van Hau highlighted the significance of participating in this activity in helping him satisfy his strong passion for drawing, earning extra money, and making the city more beautiful and friendly.
Hau and Phuong also said that beautifying street power poles has received many positive comments from owners of the café and residents living nearby.
Ms Hoang Thi Lan, who is selling vegetables and fruits on Hai Phong Street, said she was very impressed with power poles decorated with colourful flower drawings, which help to make the locality cleaner and more beautiful.
Mr Do The Hanh, 87, a longtime resident on the street, hoped that the meaningful activity of young local people would help to stop the pasting of illegal advertisements on power poles to make the city more civilised and beautiful.
"In addition to beautifying power poles with drawings, we add the text 'A fine of between 1 and 2 million VND will be imposed on those who place, paste and draw illegal advertisements on power poles'. The intention is to raise public awareness about the problems of illegal advertisements on street power poles and walls which has adversely affected the aesthetics of the urban landscape", Mr Tran Thanh Vy, Secretary of the Youth Union organisation of Tan Chinh Ward, noted.
After nearly 3 weeks of implementing, power poles along Hai Phong Street have been decorated with 60 sunflower drawings.
Mr Vo Duy Rin, Deputy Secretary of the Thanh Khe District Youth Union organisation, highly praised Tan Chinh Ward's organisation for its meaningful activity. He said he would do his utmost to expand this model into other areas in the district in a bid to stop illegal advertisements and build a cleaner and more civilised urban.
.