Enjoying beautiful natural settings at Bai But
Published: October 18, 2018
Nestled in the southern part of Da Nang's Son Tra Peninsula and just about 13 - 15km away from the centre of the city, the Bai But (Buddha Beach) is a fantastic gift of nature to the seaside city.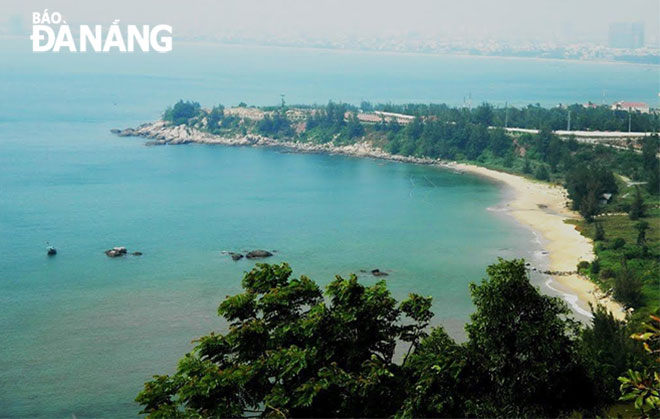 Bai But viewed from above
The venue is very inviting to those who wants to be immersed in nature and get far away from the hustle and bustle of city life. You could enjoy the beautiful setting and abundance of nature here.
The beach is blessed with pristine natural beauty with crystal waters, yellow-sand beaches, and undulating rocks.
As the legend goes, there was a married couple living together happily in a peaceful fishing village. One day, his wife saw off her husband and other fishermen heading out to sea for their one week-long fishing trip. One month later, high tides, strong winds and heavy rain slashed Son Tra. The wife was paralysed with fear and anxiety that her husband would be unlikely to return.
In desperate mood, the woman decided to commit suicide as she jumped into the sea. Fortunately, right at that time, the Buddha appeared to save the poor widow, and then she left her home to become a Buddhist nun in a temple.
Since then, the Son Tra land resumed its peace as previously, and local residents enjoyed peaceful and prosperous lives, and safe fishing trips. The villagers then gave the name of Bai But to the venue where the woman saw off her beloved husband.
Visitors can visit Bai But at any time of day to explore its stunning beauty. In the early morning, you can go for a walk along the beach to feel the sand between your toes, take a deep breath to enjoy fresh air. Interestingly, sunset is the time for you to immensely enjoy the nature and beauty here.
This beautiful spot is a must-see place for lovers of ecology. Besides being a fine beach for sunbathing and swimming, it is a perfect place for diving to discover the amazing and colourful underwater world of corals and other marine creatures. In addition, the beach boasts numerous rare plants and animals which are listed in the national Red Book.
Apart from admiring the pristine beauty of Bai But, you will also have the opportunity to enjoy a wide range of delicious food and drinks, especially local specialities, at reasonable prices.
In particular, you can take relaxing moments in palm leaf huts which are built on large stones here whilst admiring the nature here.
Last, but not least, there are several water sports and fun beach activities here, such as sailing, surfing and jet-skiing.
.