Entertainment products highlighting marine tourism potential to be created
November 28, 2019, 17:02 [GMT+7]
The Da Nang administration-approved community-based tourism development project in Son Tra District-based Tho Quang - Man Thai coastal area is highly expected to diversify types of services and utilities for the public interest, and to capture much attention from both locals and tourists.
The Tho Quang - Man Thai coastal area is eyeing the chance to develop tourism services. In the photo is a view of a beverage selling area on the Man Thai Beach.
The project is being implemented from now until 2023, covering parts of the wards of Tho Quang and Man Thai, stretching an about 1.2km-long section of the coastline from the north of Fusion Suites Danang Beach to the Hoang Sa Exhibition House and residential areas along the west of Hoang Sa - Vo Nguyen Giap coastal route.
Mr Nguyen Duc Vu, the Head of the Management Board of the Son Tra Peninsula and Da Nang Tourism Beaches, underlined the great significance of the project in fully tapping the tourism development potential in tandem with conserving the time-honoured traditional fishery villages.
The Tho Quang - Man Thai coastal area is one of the most beautiful in the city, showing off a long coastline, clear blue waters and soft white sand dunes relatively suitable for developing marine tourism services.
It is known that the majority of visitors to this site are from other Vietnamese localities, and such foreign countries as South Korea and China, whilst European and Australian nationals like visiting the Son Tra Peninsula and the Linh Ung Pagoda, and experiencing accommodation services and seafood.
In reality, the Man Thai area is now only home to some drinking places, stylised beach huts, and photo shooting locations.
Under the project, a total of 6 service clusters, covering an area of 840m2 each, will be created. Accordingly, each cluster will feature at least 5 out of the 9 types of services: beach café and bars; traditional massage; beach cuisine; souvenir shops; services for visitors to act as fishermen through such activities as basket weaving and dragging fishing nets; coracle arrangement arts; souvenir photo shooting models; and some recreational marine services, and seasports.
In particular, in the west side of the Hoang Sa - Vo Nguyen Giap coastal route, residents are encouraged to offer various types of services and utilities to tourists such as fresco paintings on their houses' walls, sales of seafood and locally-made specialities, homestays, and mystical folk-beliefs.
Vice Chairman of Son Tra District People's Committee Nguyen Dac Xung, affirmed, not only does this project help to positively change the face of the Tho Quang - Man Thai area, it also creates more favourable conditions for residents to get actively involved in the tourism industry, thereby, boosting the city's growth.
One of the outstanding benefits the project offers is that local residents are facilitated to tout for business from their homestays and other related activities, as well as selling specialties such as fish sauce and all kinds of dried seafood.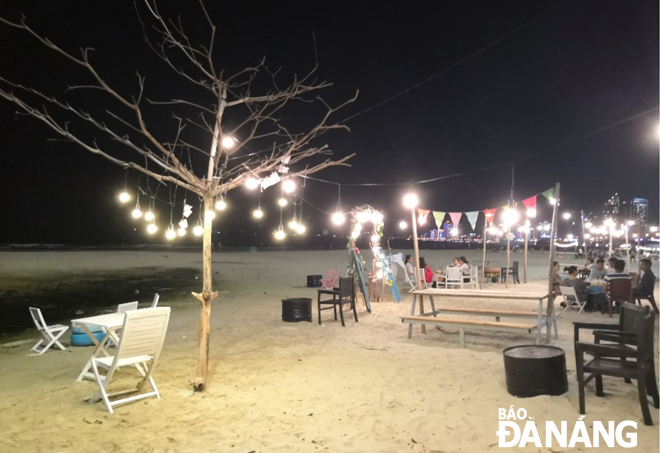 The community -based tourism development project help to change the face of the Tho Quang - Man Thai coastal area and attract more visitors. Here is a part of the impressive-decorated My Khe Beach
Mr Le Tan Thanh Tung, the Deputy General Director of Vitours, pointed out to the fact that Da Nang once housed 7 fishing villages, but some of them have been disappeared to date due to the rapid urbanisation in the city. Therefore, this community-based tourism project helps to preserve the time-honoured fisheries and offer great chances for locals to develop tourism products. Tourists, especially those from Europe and the US show their keen interest in seeing local fishermen drag nets and set sail.
According to Director of the municipal Department of Tourism Truong Thi Hong Hanh, next year, Da Nang is expected to welcome about 9 - 9.3 million visitors, of whom more than 3.6 million are foreigners. In the coming time, the demand of tourists for using high quality marine tourism services will see an upward trend. Therefore, it is necessary to deploy different types of services in harmony with the landscape and tourism development strategies, with a focus on developing marine and community-based tourism.
The city's tourism industry will issue support mechanisms which encourage organisations and individuals to offer tourism services in the Tho Quang - Man Thai area. In addition, the promotion of community-based tourism services at beach will be implemented in association with the city-held tourism programmes and events.
At the same time, heed will be paid to creating a linkage between the Tho Quang - Man Thai site and such other marine service areas on the Hoang Sa - Truong Sa route as Pham Van Dong area, the beaches of My Khe and My An; ecotourism services on the Son Tra Peninsula, the western part of the city; cultural and historical tourism sites including Dien Hai Citadel, Hai Van Pass, K20 relic site; and traditional craft villages.
By THU HA - Translated by ANH THU
.