FIFA, AFC give full backing for inaugural ASEAN Club Championship
November 07, 2019, 15:57 [GMT+7]
FIFA President Gianni Infantino and AFC President Shaikh Salman bin Ebrahim Al Khalifa have both given their full support for the inaugural ASEAN Club Championship (ACC), which will kick off next year.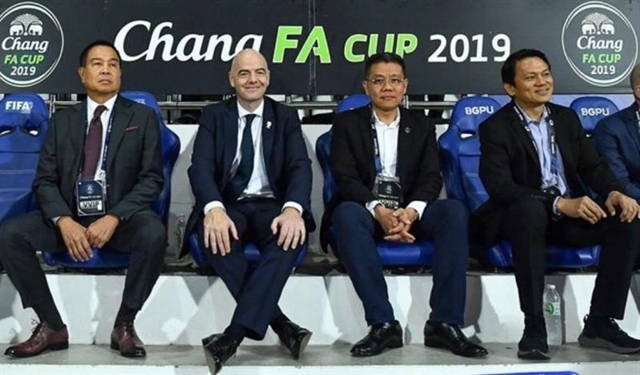 FIFA President Gianni Infantino (second, left) and Thai football officials take part in Thai FA Cup final between Ratchaburi FC and Port FC on Saturday. Infantino and AFC and AFF leaders support an ideal to organise ASEAN Club Championship. Photo of VFF
It is a competition featuring 12 leading clubs from among the ASEAN Football Federation (AFF) member associations.
Designed to support and incentivise the leading clubs, the AFF believes that the ACC will be the key platform for the next stage of regional development for the top flight professional game.
The championship, organised and sanctioned by the AFF, will provide a focus on enhancing each venue experience, for fans and players alike, whilst also rewarding successful team performances. Each club will receive a participation fee from the earliest rounds, together with escalating prize money as they progress through the Championship.
"We shared our plans for the club championship with Infantino and Salman and they were both supportive," said AFF President Khiev Sameth. "We are deeply grateful to have the full support from FIFA and AFC."
Sameth said the introduction of the ACC would raise the standard of the national teams and enhance the profiles of the clubs as well as leagues in the region. "The ACC will also help clubs improve their financial standing, promote sports tourism and enhance the football experience of the 650 million football supporters in our region."
(Source: VNS)
.