Striving to develop cuisine into highly inviting tourism product
November 09, 2019, 11:04 [GMT+7]
Food has been truly recognised for the significant part it plays in the overall experience of a destination. Today's traveller is better informed, more cultured, well travelled and looking for new experiences.Food offers a gateway into other cultures, through taste, through food preparation, and the whole eating environment, herby providing lasting memories that define a holiday or travel experience. Fully aware of this reality, many of Da Nang-based tourism businesses have been striving to gradually turn cuisine into a typical locally-made tourism product.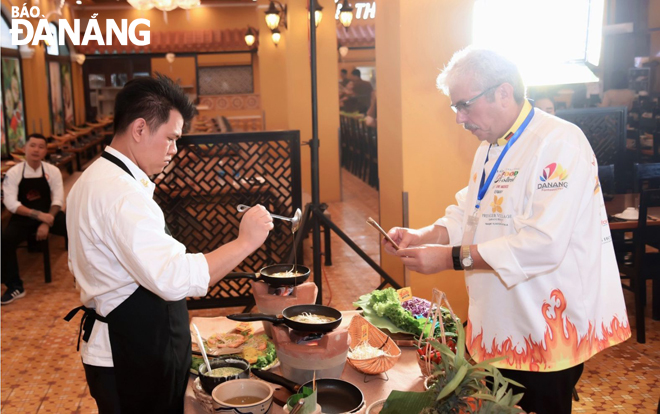 A chef from Xeo Fry and Grill showing off 'banh xeo' making processes at the Da Nang International Food Festival 2019
According to Ms Vo Thi Minh Hao, the owner of Ho Xuan Huong Street-located Huha homestay, her guests often want to enjoy local and regional specialities during their stay in the city. She, therefore, usually spends much of her time taking her guests to restaurants and eateries selling such local signature legacies as Mi Quang' (Quang noodles) and 'banh trang cuon thit heo' (belly pork and vegetables wrapped in soft rice paper).
Compared to the past, today's cuisine served for travellers is much more highly attractive in terms of quality and food decoration arts.
'Building trade brand imbued with local cultural significance' is the motto to which Mr Nguyen Tan Vu, the Director of Amomi JSC, the owner of Xeo Fry and Grill restaurant chain, is paying a special heed. At these restaurants, every dish offered to their customers has an impressive story behind it, and highlights cultural characteristics.
Vu said, when choosing to build Xeo Fry and Grill brand, what he wants most is to bring comfortable dining experience for his customers in enjoying local cuisine.
Xeo Fry and Grill offers various irresistibly delicious types of 'banh xeo'. Each region across this S-shaped country has its own unique ingredients and flavours to make 'banh xeo' (Vietnamese sizzling pancakes with shrimp and pork filling) become one of its specialities.
In Southern Viet Nam, 'banh xeo' is in the size of a large dish, and its outer layer is also yellow, whilst in Central Viet Nam, the dish is white in colour and much smaller.
At the Da Nang International Food Festival 2019, which took place in June, Xeo Fry and Grill joined force with 14 foreign chefs to bring 'banh xeo' closer to domestic and internationals tourists by making Viet Nam's ever biggest 'banh xeo' measuring a diameter of 3.68m and weighing 700kg.
In reality, no professionally-organised food tours have been offered to visitors in the city to date. In his perspectives, Mr Nguyen Minh Loi, the developer of the 'Danang Free Walking Tour' project, affirmed, turning cuisine into a separate tourism product actually requires a lot of factors, not only the food quality but also cultural experience. To more specific, it is necessary to introduce tourists to the origin of the dishes they enjoy during their tours as a way to gain a deeper insight into the city's culture and daily lives of local residents.
Under the soon-to-be-opened Cam Le - Tuy Loan - Thai Lai inland waterway transportation route, visitors will be taken to the Tich Thien Duong house, and they will also have the opportunity to learn how to make such local dishes as Quang noodles, and 'banh bot loc' (steamed clear tapioca cakes in banana leaves).
According to Director of the municipal Department of Tourism Truong Thi Hong Hanh, the city tourism industry has also invited celebrities to Da Nang to experience local dishes and make videos and clips on local cuisine.
This plan aims to effectively advertise the city's signature dishes to domestic and international tourists, hereby gradually turning cuisine into an attractive tourism product and increase tourist arrivals in the city. On that basis, in the near future, travel agencies can develop culinary tours to diversify locally-made tourism products.
.