Danang triathletes enjoy success from local to international events
October 16, 2020, 17:18 [GMT+7]
The Danang Triathlon team was established by Vo Quoc Tuan, a resident of Da Nang, in November 2016.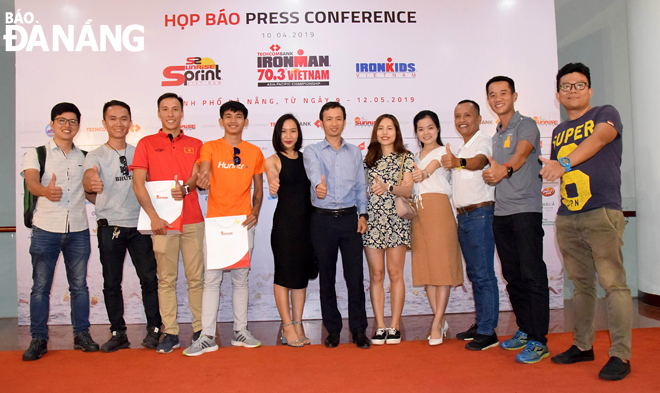 Many talented triathletes in Da Nang won outstanding achievements at the 2019 IRONMAN 70.3 Asia- Pacific Championship
Tuan said that a triathlon is a multisport endurance race that commonly involves swimming, cycling and running. Many athletes in Da Nang have a great passion for triathlon, and they are ready to conquer the multisport challenges to check their health conditions and enduringness. However, most of them are not strong enough to complete the challenges at local events.
He, therefore, remarked the establishment of the team aims to facilitate local athletes to improve their physical strengths and accumulate valuable experience for triathlons. Also, other reasons are to promote sporting spirit among both athletes and residents, as well as advertise the beautiful images of the city to international friends through international-level events.
Under the help of running coach Thien Binh and swimming coach Phan Van Khoa, both in Da Nang, Tuan has developed detailed workout plans for newcomer triathletes.
Initially, the team had only 10 people who were members of the Danang Runners Club.
In an early stage of the Danang Triathlon team development, all members concentrated on their hard training sessions in preparation for the 2017 IRONMAN 70.3 Viet Nam triathlon in Da Nang.
Their great efforts were paid off as 7 out of the 10 members were named the most outstanding contestants in different age groups in the sports event, so they earned slots to compete in the Ironman 70.3 Asia Pacific Championship 2017 which took place in the Philippines.
Since then, the Danang Triathlon team has had a firm foothold in the city's sport sector. Thanks to this, it now has over 100 members who are athletes in all kinds of sports across the city.
Till date, the Danang Triathlon team have been competitive and successful in domestic and international events.
Most notably, the Danang Triathlon team won the first prize in the category of Relay-Mix at the 2019 IRONMAN 70.3 Asia- Pacific Championship.
Also at this international sports event, triathletes Nguyen Manh Ha and Vo Quoc Tuan were named among top 10 most outstanding Vietnamese participants. Meanwhile, Thanh Huynh was named as the best Vietnamese triathlete in the age group of 18-24.
By BAO AN - Translated by M.D
.