Animated film about Viet Nam's history released
December 28, 2020, 08:45 [GMT+7]
A new animated film featuring historical events in Viet Nam by young filmmakers from the Duoc Moi Group has premiered in cinemas in HCM City.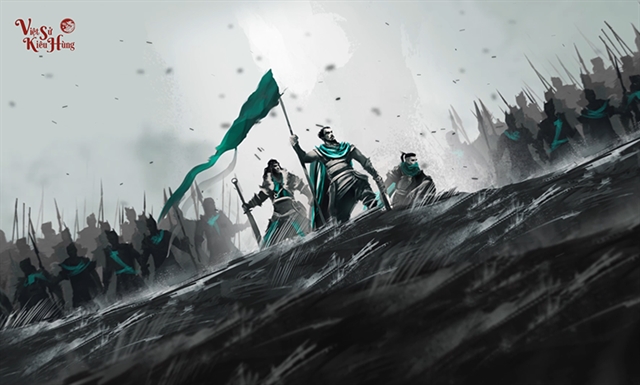 A scene in 'Binh Ngo Dai Chien' (Battle of Tot Dong- Chuc Dong), a new animated film by young filmmakers of the Duoc Moi Group. Its trailer has attracted more than 171,000 views on Youtube. — Photo courtesy of the producer
Binh Ngo Da Chien (Victorious Battle over Foreign Invasion), a 2D production, takes place from 1420 to 1426 under the reign of the Trần dynasty.
The film celebrates the battle of Tot Dong- Chuc Dong in 1426 between the Lam Son troops under the command of national hero Le Loi and the Ming invaders from the north.
The battle began in November 1426 in the Hong (Red) River Valley between Chuc Dong and Tot Dong villages in Chuong My, an outskirts district of present-day Ha Noi.
After the battle, Dai Viet gained independence, and Lê Lợi, leader of the Lam Son uprising, became king in 1428.
The film's trailer on YouTube has attracted more than 171,000 views.
"We worked hard to make our production lively," Tran Tuan, a member of Duoc Moi Group, said.
Tuấn and his staff spent more than 15 months on filming.
'Binh Ngo Dai Chien' is the last film of the film project called 'Viet Su Kieu Hung (Pride in Vietnamese History) by Duoc Moi.
The project, worth 2.4 billionVND (US$647,000), aims to introduce Vietnamese history to young audiences.
It includes a series on historical events under the Tran and Ho dynasties between 1225 and 1400.
The first film, 'Tu Chien Thanh Da Bang' (Deadly Battle at Da Bang), is divided into three chapters and uses 3D technology. It was released in 2018 and has attracted more than 801,000 views on YouTube.
"We researched documents and books about the nation's historical events and victories, and legendary heroes during the filming," said Tun, head of the film crew.
"We received financial support from several domestic sponsors, companies and individuals who shared their love for Vietnamese animations," he added.
"Through films from the project 'Viet Su Kieu Hung', young people can learn bravery, honour and responsibility. They'll also improve their knowledge about Vietnamese history and learn about independence," Ngo Pham Quang Dai, a 15-year-old from Dong Nai Province wrote in the comment section on YouTube.
Đai and his friends loved 'Dai Chien Bach Dang' (The Bach Dang Battle), a 3D animated film by students at Hồng Bàng University in HCM City. It has remained popular since its release in 2012.
The six-minute film has attracted 847,000 views on YouTube.
It features the Bach Dang Battle of 938, a famous event on the Bach Dang River between the Vietnamese troops, led by Ngo Quyen, and Chinese invaders under the Han dynasty.
One dramatic scene depicts Ngo Quyen showing his troops how to plant iron-headed wooden stakes, invisible during high tides, into the river-bed.
After Quyen launched a counter-attack at low tide, the enemy's large boats ran aground as they were pierced by the long stakes.
The victory of Bach Dang ended the 1,000-year Chinese domination, opening a period of Viet Nam's independence and sovereignty.
"We will release 'Binh Ngo Dai Chien' on YouTube. Animated films shown on social media will help lure young audiences back to Vietnamese movies," said Tuan.
Source: VNS
.