Broken rice is the flavour of the south
December 22, 2020, 09:13 [GMT+7]
Any trip to HCM City wouldn't be complete without trying some 'com tam' (broken rice).
The dish is now available nationwide, but the taste of a plate of broken rice with grilled pork chops, shredded pork skin and steamed egg custard is best in the south, particularly in HCM City.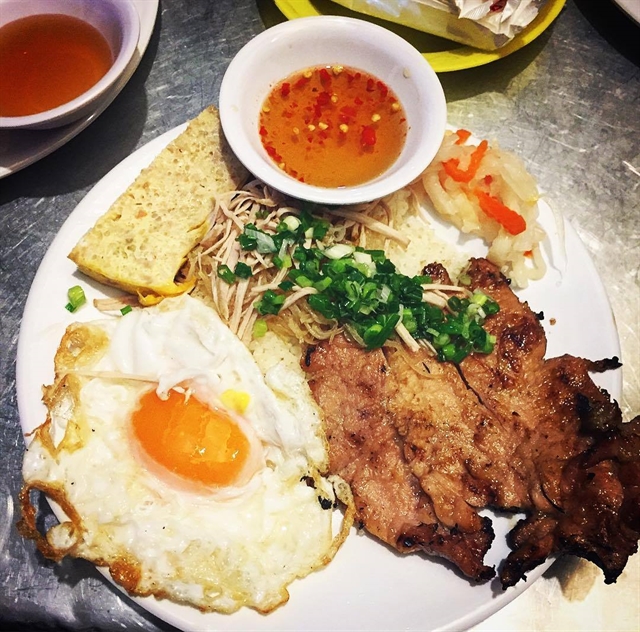 The original flavour of 'com tam' has been enriched with additional ingredients like fried egg. — Photo 'Dia diem an uong' facebook.
In the past, the southern speciality was eaten only for breakfast, but now cơm tấm lovers can enjoy the dish at any time of the day at street-side stalls or luxury restaurants.
"I ate broken rice from a very young age. Whenever I went to the market with my mother, we would drop by the restaurant of broken rice at the entrance of the market," recalled Dao Nguyen Khoa, a 21-year-old student from HCM City.
"It is still my favourite even now I'm grown up. If I'm asked what is a typical dish for Sai Gon, I don't hesitate to answer that it's broken rice," he said.
As the name suggests, 'com tam' is made from broken rice grains. According to many elderly Saigoneers, the dish used to be a popular dish among poor farmers.
In the past, broken rice was considered inferior rice, so it was cheap and used to feed pigs or chickens. However, during bad rice seasons, people had to eat broken rice.

According to writer Son Nam, a well-known Vietnamese cultural researcher, Vietnamese chefs adapted cơm tấm to be more suitable for foreigners by adding grilled pork chops, shredded pork skin and steamed egg custard during Viet Nam's urbanisation in the first half of the 20th century.

Therefore, the rice started to be eaten in the European style, served on a plate with a spoon and fork. Today, 'com tam' joints in HCM City still give spoons and forks for the diners.

Together with its ingredients, broken rice has become a symbolic dish of the most populated city in Viet Nam and an example of the cultural interchange between eastern and western cuisine: being served in Western-style, accompanied by French-style grilled pork chops, steamed egg custard of the Chinese, northern-style shredded pork skin mixed with the sweet and sour fish sauce of the Saigoneers.
Broken rice is normally steamed so the rice seeds are cooked evenly. In some areas, chefs also add pineapple leaves to the steaming water to add a mild aroma.

The rice is then be scooped onto the plate and the grilled pork chops, steamed egg custard, shredded pork skin and oil onion (made of scallions and oil garnish) are all added. The diner will spread the sweet and sour fish sauce on top and dig in.

However, the dish varies from restaurant to restaurant, particularly the meat marinade recipe. Each restaurant also has its own way of mixing its fish sauce. A restaurant where the ribs are well marinated, the grilled meat is tender and fragrant and offers tasty fish sauce will surely attract many diners

The chefs have also enriched the dish new ingredients like grilled rolls, char siu or fried eggs.

From a cheap dish and served on street-side shops, 'com tam' has been upgraded to a more luxurious version and offered in high-end air-conditioned restaurants, priced from 35,000-60,000 VND (US$1,5-2,6) per plate. However, the roadside eateries with their own flavour and reasonable price still retain their attractiveness to both Saigoneers and visitors to the city.
Nowadays, 'com tam' is popular among every Vietnamese and has been a standardised part of the HCM City culture so much that there is a common metaphorical saying that Saigoneers eat 'com tam' like Hanoians eat 'pho'.
Source: VNS
.