'Da Nang Welcomes in New Year 2021' Festival kicks off on Wednesday evening
December 31, 2020, 11:34 [GMT+7]
Wednesday evening saw the opening of the 'Da Nang Welcomes in New Year 2021' Festival at the Sun World Danang Wonders (Asia Park).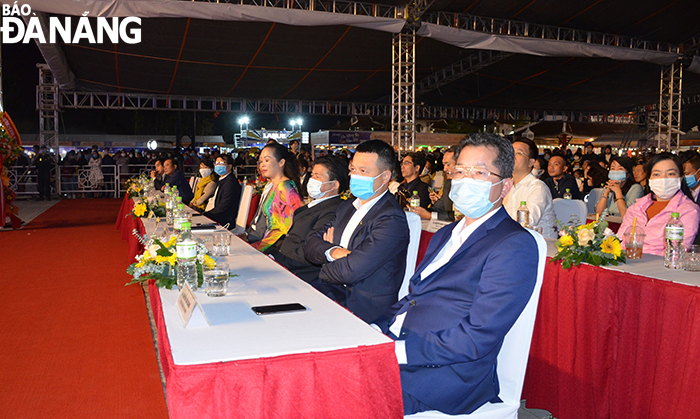 Da Nang Party Committee Secretary Nguyen Van Quang (right, first row) attending the opening ceremony for the festival
Da Nang Party Committee Secretary Nguyen Van Quang, Da Nang Party Committee Deputy Secretary cum Chairman of the municipal People's Council Luong Nguyen Minh Triet, and municipal People's Committee Vice Chairman Ho Ky Minh made their attendance at the opening ceremony.
In his speech delivered at the opening ceremony, Vice Chairman Minh said Da Nang has secured a better stature on the world tourism map as a safe, attractive and hospitable destination for both domestic and foreign travellers.
The encouraging result was mainly attributed to the success of vibrant and exciting cultural, sports and tourism activities organised in the city over recent years, the effective leadership of Da Nang leaders, and the active support from tourism businesses, Da Nang people and tourists.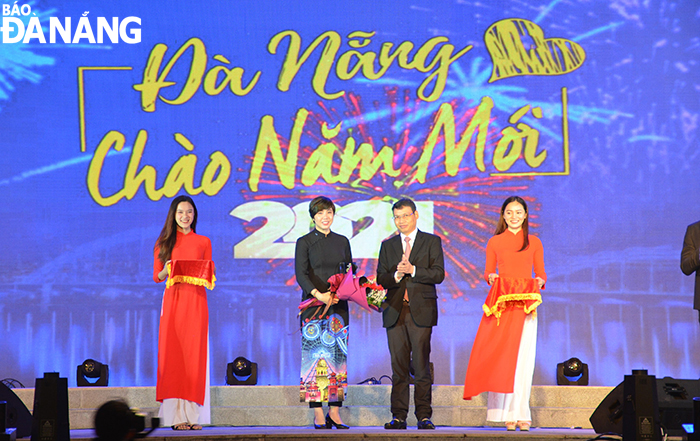 Da Nang People's Committee Vice Chairman Ho Ky Minh (2nd right) presenting a souvenir medal to a sponsor of the festival.
Vice Chairman Minh highlighted the significance of the festival to diversify Da Nang's tourism products, and tempt domestic tourists back, thereby driving post-pandemic tourism recovery in Da Nang in the new normal.
"Through this event, we look forward to continuing to promote the seductive beauty of Da Nang dotted with amazing beaches with its clear blue waters and soft white sands, majestic mountains and romantic rivers to travellers around the world" said Mr Minh.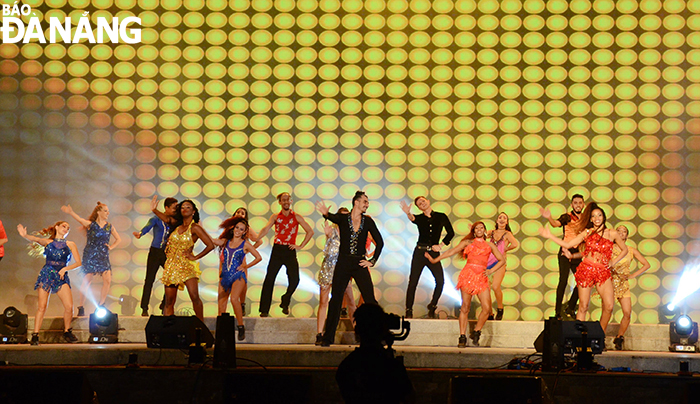 The opening ceremony of the festival drew quite a crowd and the atmosphere was upbeat with breathtaking live music and free admission
Launched by the Da Nang Department of Tourism, the much-awaited festival which runs until 2 January 2021 promises a feast of exciting activities. Included are a countdown party to ring in New Year 2021, the Noodle Festival, exciting street music performances, and a photo exhibition entitled 'Da Nang, New Vitality'.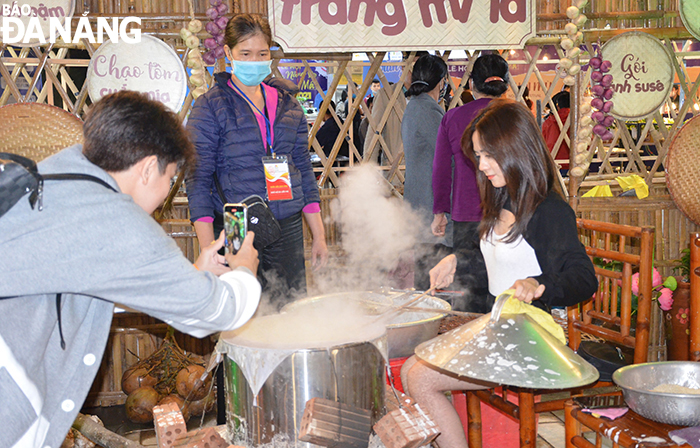 A female visitor experiencing how to make noodles, one of Da Nang's specialties, at the ongoing Noodle Festival at the Asia Park
Please read the article at https://baodanang.vn/english/what-to-enjoy-in-Da-Nang/202012/da-nang-welcomes-in-new-year-2021-festival-promises-week-of-fun-and-joy-3874468/ for detailed information about the event.
By THU HA - Translated by M.D
.