SHB on hunt for new players
December 03, 2020, 11:14 [GMT+7]
SHB Da Nang have finished in ninth place out of 14 teams at Viet Nam's top-tier V-League 2020, and fought against relegation for the four consecutive V-League seasons.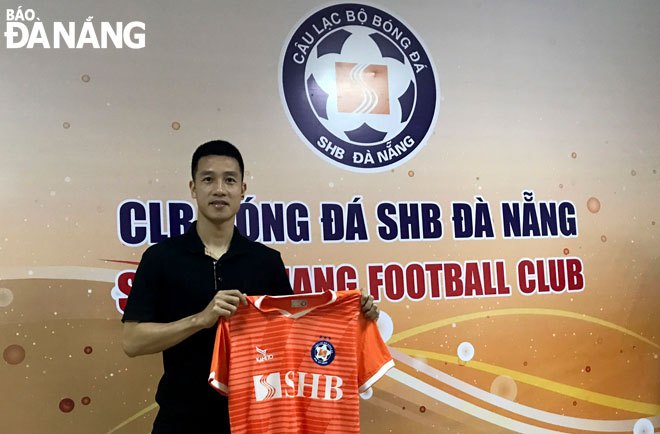 SHB DN Football Club has already signed a 3-year contract with central midfielder Huy Hung (in picture)
SHB DN have just around one months to prepare for next league season which is set to kick off in January 2021.
However, SHB's coaching board remains optimistic that the football team will be able to return to the forthcoming Viet Nam's national premier league with more positive results as the Da Nang football club has already signed contracts with 3 foreign and 2 domestic footballers in the recent transfer windows.
In particular, SHB DN Football Club has signed a contract with midfielder Janclesio Almeida Santos. The Brazilian footballer is reportedly 1.95m tall, and he was named among the best players during the league season 2020 as playing for Ha Tinh Club.
Also, coach Duc wants to reinforce his team's attack by signing two top Brazilian strikers Rafaelson Bezerra Fernandes and Hedipo Gustavo who once played for Nam Dinh and Becamex Binh Duong clubs respectively.
Other freshly-signed domestic players are central midfielders Ngoc Thinh and Huy Hung.
Huy Hung has many years of experience playing in the V-League arena. The 28-year-old player was the mainstay of Quang Nam Club as this club won the V-League championship in 2017. He also played for Viet Nam's football team in the finals of the ASEAN Federation Football (AFF) Suzuki Cup 2018.
Huy Hung is able to produce interception and interruption attacks, thereby contributing to helping SHB DN control the game better.
Coach Duc is well aware that central midfield is an area of the squad that needs boosting, so he is still targeting another top-class central midfielder in the transfer market in order to share responsibility with Ngoc Thinh and Huy Hung.
He hopes that the new domestic midfielders will be able to fill the gaps left by departing senior players, and produce the perfect combination that the coaching board expected.
Hopefully these changes in the squad will help SHB DN overcome their recent difficulties and gain more success in the coming season.
By TINH BAO - Translated by M.D
.