Winners of contest on Environmental Protection and Biodiversity honoured
December 20, 2020, 11:29 [GMT+7]
Winners of the Da Nang Photo Contest on Environmental Protection and Biodiversity 2020 were announced in an awards ceremony which took place in Da Nang on Saturday.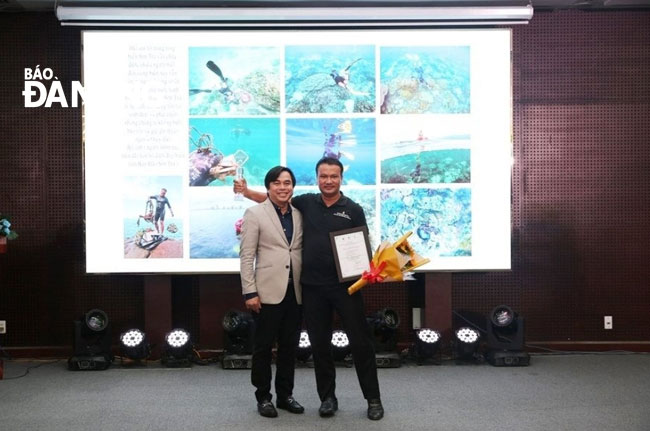 Director of Da Nang Department of Natural Resources and Environment To Van Hung (left) and the first prize winner Dao Dang Cong Trung
The event was co-hosted by Da Nang Department of Natural Resources and Environment, along with the Natural Resources and Environment Newspaper and Da Nangl Artistic Photography Association.
Themed ' Da Nang - Action for Nature', the photo contest aimed to raise public awareness about environment protection and biodiversity conservation, as well as promote Da Nang as an environmentally-friendly city to both Da Nang people and tourists.
After nearly 4 months of launching, the contest's organisers received a combined total of 450 entries from experienced photographers across the country.
Most of the entries showcased the tremendous beauty of nature and the biological diversity of Da Nang, as well as reflected the harmonious coexistence between human and nature, and great efforts made by Da Nang government and residents in the management and sustainable use of natural resources.
In the end, Dao Dang Cong Trung won the first prize of 20 million VND for his 'Nguoi Luom Rac' (Waste Collector).
Huynh Van Truyen and Dam Minh Son shared equally the second prize of 10 million VND for their 'Mua Hoa Tim' (Purpose Flowers in Bloom) and 'Kiem An' (Hunting) works respectively.
The third prize of 5 million VND was shared equally between Dang Thanh Hoa, Bui Thanh Lang and Duong Duc Khanh.
In addition, 9 consolation prizes were also given out to outstanding entries. The organisers also presented an extra prize for a group with the highest number of entries.
The 49 most outstanding photos, selected by the contest's organiers, will be on display at the ground floor at the Da Nang Administrative Centre's Hall and other public places in Da Nang in the time to come.
By PHAN CHUNG – Translated by M.D
.