Vietnamese TV channel helps promote RoK's Hallyu content
December 31, 2021, 08:45 [GMT+7]
A Vietnamese TV channel has signed an agreement with seven provincial cities and counties of the Republic of Korea (RoK) on popularising the Korean culture (Hallyu or Korean Wave) in Viet Nam and enhancing cultural exchange between the two countries.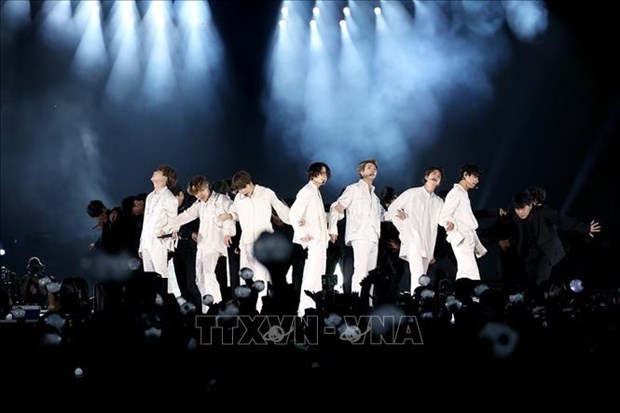 BTS goes onstage at King Fahd International Stadium in Riyadh, Saudi Arabia in 2019. (Photo: Yonhap/VNA)
The deal was inked on December 28 between VTC10 channel of Viet Nam's VTC Digital Television Network and seven Korean localities, including Goseong county of Gangwon province; Damyang and Boseong counties of South Jeolla province; Dangjin city of South Chungcheong province; Yeongdong county and Jecheon city of North Chungcheong; and Uiryeong county of South Gyeongsang, according to the authority of Seoul's Yongsan district.
Under the agreement, the seven cities and counties will partner with VTC10 in producing Hallyu content which will be aired on the Vietnamese channel's "Best in Korea" programme.
Yongsan district has established a representative office in Quy Nhon, the capital city of the south-central province of Binh Dinh, where various Korean specialties are exhibited. This is a move by the district to promote Korean products and investment in Viet Nam.
Yongsan's authority also revealed that the district has joined hands with a number of cities already setting up cooperative ties with Viet Nam to accelerate promotion of Hallyu products in the Southeast Asian country. It expects to organise a workshop on promoting investment into Viet Nam for Korean localities and business leaders as soon as the COVID-19 pandemic is kept at bay.
Source: VNA
.