Contestants of Miss Tourism Da Nang 2022 participate in 'Back to The Roots' journey
January 12, 2022, 18:28 [GMT+7]
On Wednesday, 20 out of 31 finalists at the Miss Tourism Da Nang 2022 beauty pageant participated in the 'Ve Nguon' (Back to The Roots) journey in a bid to better understand the heroic history of the land and people of Da Nang.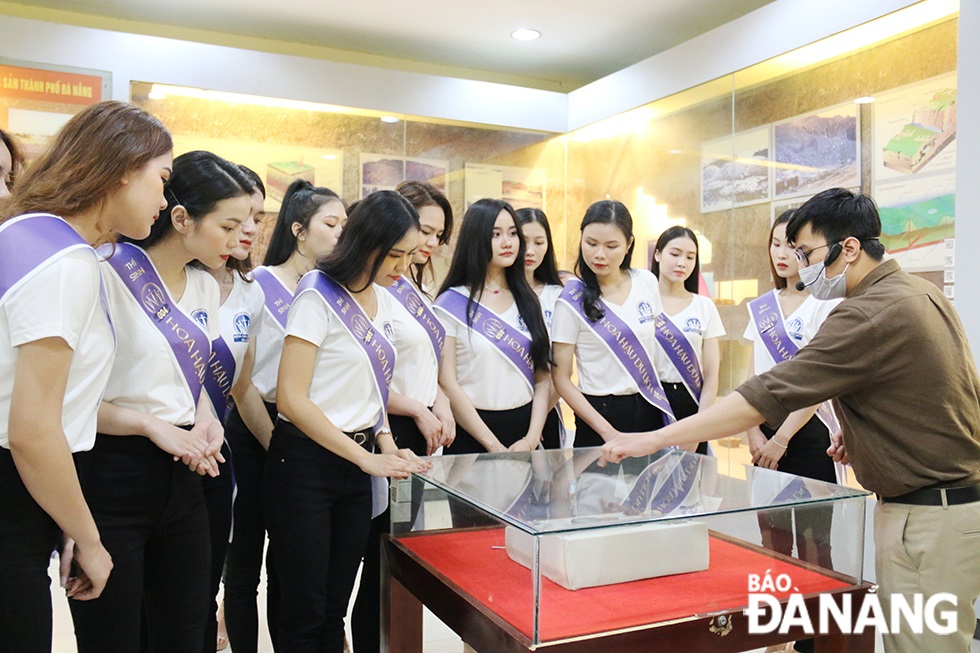 Some of the beauty pageant's finalists are seen listening to explanations about artifacts on display at the Museum of Da Nang. Photo: THANH TINH
During the journey, the contestants offered incense and laid a wreath at the statue of General Nguyen Tri Phuong placed in the Dien Hai Citadel. They also visited the Museum of Da Nang, the 2 September Peace Monument, the expanded APEC Sculpture Garden, the Museum of Cham Sculpture, etc.
Through the journey, the contestants gained a deeper insight into the cause of national construction, defense and development of the city.
Mrs. Tran Thi Le Chi, the General Director of the Rong (Dragon) Tien Sa Communication JSC cum Head of the Organizing Committee of the Miss Tourism Da Nang 2021 beauty pageant, said that the beauty pageant aimed to select a typical representative who converges all the elements of modernity, knowledge, beauty of the soul, charm and bravery of women in the context of international integration. During her tenure, the tourism ambassador will play a vital role in introducing the tourism and culture of the city to international friends.
To date, 31 finalists of the beauty pageant have completed the sub-competitions of Miss Photo and Miss Communications.
It is expected that the finale of Miss Tourism Da Nang 2022 is scheduled to take place on March 5, 2022.
Reporting by THANH TINH – Translating by M.DUNG
.