Keeping soul of time-honoured rice paper craft making village
January 21, 2022, 18:04 [GMT+7]
For the time being, the Tuy Loan Dong 2 Village, Hoa Phong Commune, Hoa Vang District has still maintained a few dozen households making rice paper. However, only a few households remain to make rice papers by hand and use charcoal to dry them. Of them, 3 artisans, namely Ms Tran Thi Luyen, Dang Thi Tuy Phong, and Dang Thi Tung registered to participate in the Tuy Loan rice paper craft village to preserve the unique taste of this famous delicacy.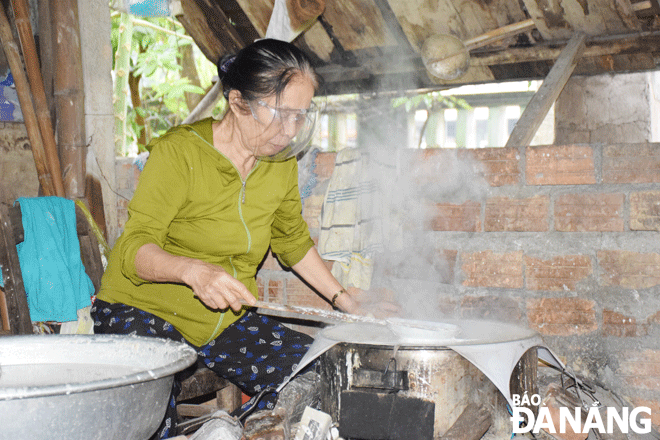 In order to have delicious cakes, Ms. Tran Thi Luyen often rotates her hands while rolling the rice paper on the fire. Photo: D.H.L
According to Ms Luyen, the Tuy Loan rice paper makes it outstanding from others of its kind in other nationwide places thanks to its thinness. Rice paper's makers have to rotate their hands to make the rice paper thin and smooth. Apart from that, the fire must be good to make the rice paper be cooked evenly and puff up. Therefore, firewood which is used has to be strong forest logs to keep the embers. The coal in the furnace is also utilized to dry the cake after the rice papers are taken out of the oven.
Every day, Ms Luyen has to get up at 0.30 am to prepare ingredients and coal to start making the first rice papers of the day at 2:00 a.m. Every time she makes 160 rice paper cakes per day, she has to grind about 20 kg of rice flour and make rice papers until the batch is finished at 11.00 a.m.
Delicious rice papers come from the secret of drying them on hot coals just after spreading rice flour rather than forcing them to dry quickly. Rice to make Tuy Loan rice paper must be 'xiệc13/2' rice (a kind of local rice) to make it crispy. In particular, Ms Luyen also grows this type of rice from 7 - 8ha of rice per crop.
Ms Luyen belongs to the 3rd generation to make traditional rice paper, so she knows how well the cake is cooked just by looking at the steam rising from them. For more than 41 years of making rice paper and numerous days staying up late at night to keep the kitchen burning, Ms Luyen also witnessed many changes as well as ups and downs of her hometown's rice paper. "In the past, rice paper was dried in the open air and only put a little salt and sesame. Currently, it's put more spices on such as sugar, fish sauce, garlic, and sesame," said emotionally by her.
Ms Luyen's life has been attached to more than 4 blenders from grinding flour with a stone mortar and switching to a single-phase machine, and then a 3-phase machine in 1999. However, many people currently choose to make rice papers with electric machines to make it quick and easy, but she still keeps the conventional way of making them by hand to keep the characteristic delicious taste.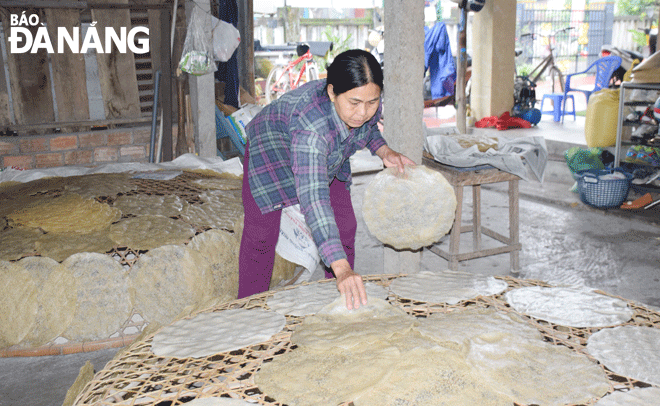 After coming out of the oven, rice paper is dried on charcoal to retain its characteristic flavour and crispiness. Photo: D.H.L
"Work hard to maintain this profession"
Thanks to her regular work, Ms Luyen can sit for 11 hours per day to make rice papers. What she is concerned about is that there is no one to inherit the profession, so she has to work hard to keep the family profession.
At the age of 83, Mrs Dang Thi Tuy Phong still helps her daughter pound garlic and ginger for seasoning as a habit that cannot be abandoned after more than 60 years of working with the profession. Mrs Phong said that after watching making rice papers for a long time ago, she together with some people decided to make this type of cake just for eating. Later, when there were conditions, she opened a production facility of Tuy Loan rice paper to increase the quantity. A few years ago, the city supported her family with VND 30 million to invest in a flour mill and campus's roofing sheet, so the production facility was more spacious.
To have enough ingredients for making rice paper during Tet season, Mrs Phong always keeps a large pile of charcoal in front of her house. Charcoal not only makes rice paper delicious, but it is also non-toxic to both bakers and eaters. Mrs Phong is also happier when her daughter is continuing her traditional profession.
In particular, in the months approaching Tet, Mrs Phong's family works three or four times more than usual to have enough quantity for customers. Currently, there are 3,000 - 4,000 rice papers available in her house for customers' demand
All in all, rice papers in this village are still constantly being baked on fire to serve customers from all over the world. Tuy Loan rice paper craft village has gradually been restored by the hands of local people. It is not only grilled for eating as a kind of snack but also used to serve with a bowl of Quang noodles featuring a strong hometown flavour making anyone who travels far to remember forever.
Tuy Loan rice paper craft village is located in the ancient village of Tuy Loan, Hoa Vang District with the age of about 500 years, led by 5 sages Dang, Lam, Nguyen, Tran, Le obeying King Le Thanh Ton's decree to expand the country. Experiencing many ups and downs of history, the village still retains the beauty of the countryside with the craft of rice paper for many generations.
According to the custom of the Tuy Loan villagers, rice paper is indispensable on the tray of offerings to the ancestors during the Tet holidays or on occasions of worship. Therefore, in the last months of the year, rice paper's furnaces are always fired to increase output to meet the high consumption demands of domestic and foreign customers.
Reporting by DOAN HAO LUONG- Translating by T.VY
.