Lack of quality foreign footballers - a major headache for SHB DN in coming league season
January 09, 2022, 17:46 [GMT+7]
SHB Da Nang are competing in the Quang Trung Emperor Cup at the Quy Nhon Stadium in Binh Dinh Province. This is a qualify friendly tournament for teams to review their forces towards the Viet Nam's top-tier V-League 2022 which is slated to take place from February 19 until mid-November. However, finding quality foreign footballers for the local team is always a major headache for coach Phan Thanh Hung.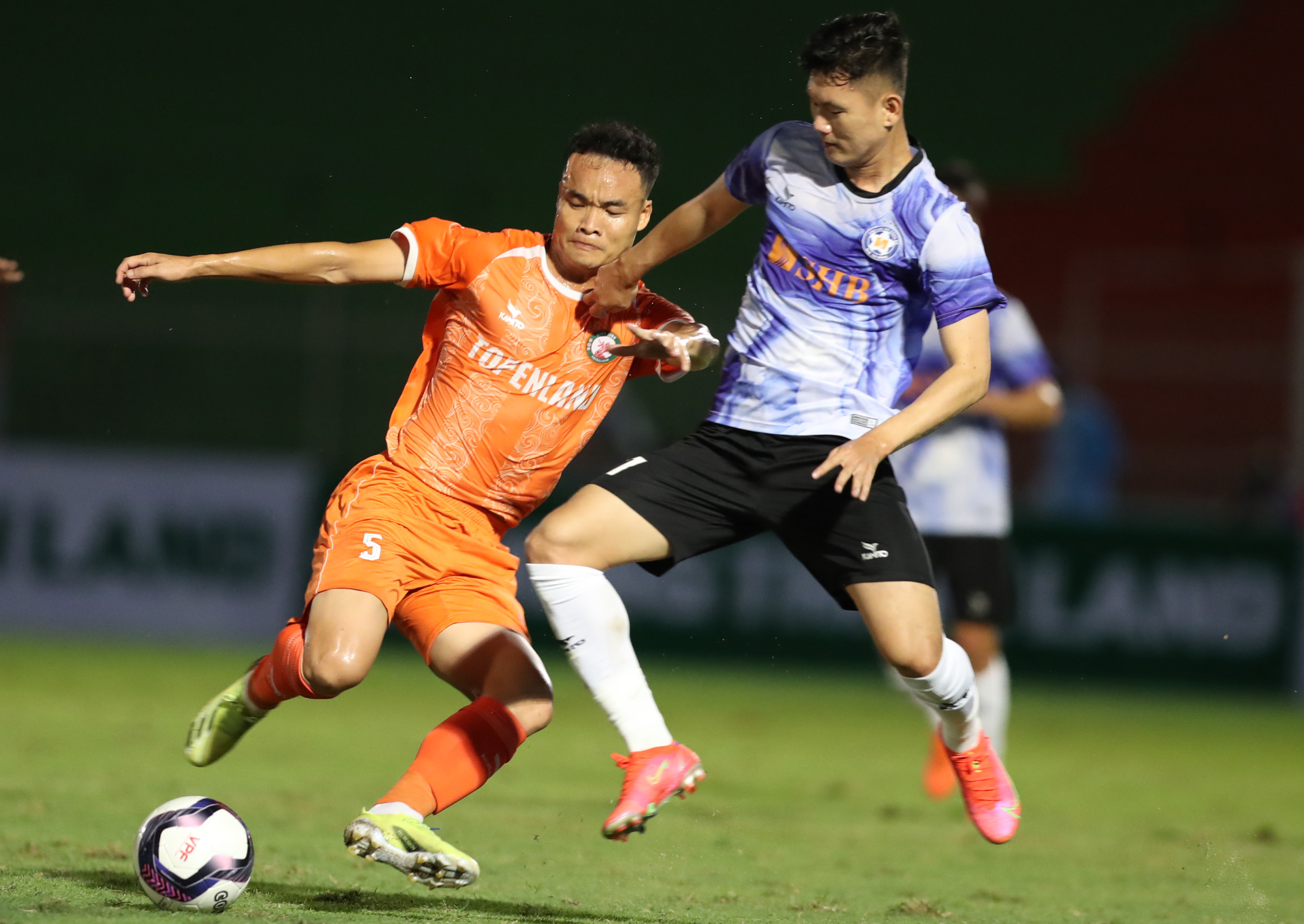 SHB DN (in blue T-shirt) and Binh Dinh (in orange T-shirt) players
On January 5, SHB Da Nang suffered a 3-2 loss to the host Binh Dinh in an opening match at the Quang Trung Emperor Cup.
In a friendly football tournament, the match score does not matter because the important thing for the coaches at that time is to check the forces and select the best players for in preparation for the upcoming V-league season. That is no exception for SHB's coach Phan Thanh Hung because he is on track to rebuild SHB Da Nang.
Despite taking the post of SHB Da Nang's head coach since early May 2021, Mr Hung has yet to make a debut with the 'Han River' football team due to the complicated developments of COVID-19 pandemic. That, but, is considered a good thing for him to have more time to rebuild the forces of the team and also to train young people for Da Nang's football sector.
To prepare for the forthcoming v-league season, coach Hung has recruited ex-SHB players in previous seasons such as Nguyen Sa, Hoang Quang, Anh Quang, A Mit, Duc Le, and Sy Nam. In particular, he has already selected 8 young players for his squad.
Coach Phan Thanh Hung explained: "In fact, I still keep the same force of the team like previous seasons, just adding a few former football players and some young players. Young players are the core force of SHB Da Nang in the future, so we need to create opportunities for them to perform."
The opening match of Emperor Quang Trung's friendly tournament can be seen as the debut of coach Phan Thanh Hung in the colors of SHB Da Nang. Most notably, young footballers have performed quite well.
However, the lack of quality foreign footballers is the major headache for coach Hung.
In reality, midfielders Ivan Mavic and Knezevic Filip who have just signed contracts with SHB Da Nang have not yet to meet the requirements of the coaching board. The duo made their quite faint debut in the team's opening match.
In addition, due to COVID-19, SHB has found it difficult in recruiting foreign footballers. Even many football players only accept to go to Viet Nam to sign contracts and officially play for the team without undergoing probationary period. This makes it difficult for the team, because not all foreign players have good quality or are suitable for the team's playng style.
Therefore, SHB Da Nang is now actively looking for a quality foreign striker for the new v-league season.
Hopefully, in the coming time, coach Phan Thanh Hung can solve the current difficulties to help SHB reach their target of finishing in the top 3 of the 2022 V- League.
Reporting by DUONG MINH - Translating by M.D
.