Meaningful message from Vietnamese rapper's "Bringing money back to mom" song
January 12, 2022, 18:28 [GMT+7]
The music video (MV) "Bringing money back to mom" by rapper Den Vau mixed with vocalist Nguyen Thao has gone viral at a rapid pace over recent time has it has received more than 33 million views and created a wave of heated debate on social networks as well. In addition to many compliments from the general public, there are also many prejudices and controversies over the song. However, Den Vau's latest product has been still spreading at an amazing speed.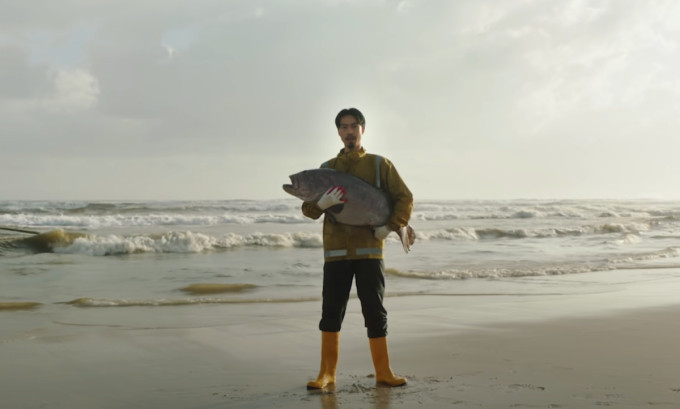 The image in the MV "Bringing money back to mom" Photo: Den Vau Official
The MV has quickly spread and won the hearts of young audiences since its meaningful lyrics make them see their silhouette in it. This is also the song Den Vau himself wrote for his own turbulent life before his present success. His journey to fame is an interesting story highly inspiring the younger era.
"The biggest wish of most mothers is not that their children will break the sky or might be a big shot in life, but to be able to take good care of themselves. "Bring money back to mom" as a reminder to the family to rest assured about "children will someday leave home", have jobs, and make contributions", said Den Vau in a brief message of the rap song on his personal Facebook account.
"Bringing money back to mom" was released at the close of the Lunar New Year, so the heart-fluttering is even more intense. In the context of a difficult COVID-19 pandemic, many children return to their hometown to welcome a new spring with their parents but not everyone succeeds to be able to bringing money back to their mothers. Even some mothers have to give their children financial support for them to continue their harsh lives.
Who among us has not faced the image of a gentle mother counting the sweaty dark coins to see off her children on the road to "cultivate great will". Those children may be freshmen at a university or employed as hired labourers. But mother's love is still unconditional as children in their eyes are always little children and need to be protected.
Children far from home always leave their parents with immense nostalgia and anxiety that must be measured in days or months. It is sure that every parent just wants their children to be mature and become good human beings before bringing money back to help their parents. Moreover, money brought back must be earned with genuine labour and " that money needs not to be laundered" like the lyrics in the MV.
Mothers all around the world often save up and don't dare to spend the amount of money given by their children. They also often use money from successful children to share with less fortunate siblings in the family.
The hustle and bustle of modern life make the countryside gradually empty of young adults since young boys and girls have had to leave and take with them their "meekness and dreams" to make a living in the city.
Even urban children have faced challenges due to big competition for labour and intelligence. Den Vau's journey to success, the happy message of the MV "Bringing money back to mom" has made a stir perhaps not only young people because who hasn't been in their twenties with the first days of starting a business full of hardships.
The pandemic has caused many children to return to their hometowns with their parents, but then most of them will have to leave. Because homelands, although beautiful, have not been awakened to be able to support themselves and their families. We know that everyone has a dream to change their life, but to help young people live with willingness, work hard and succeed, it takes the will of the whole society. Thanks to Den Vau's meaningful music product, the hearts of so many people have been voiced up.
Reporting by THAO UYEN- Translating by T.VY
.