New coach to replace Park Hang–seo at 2022 U23 AFF Cup
January 07, 2022, 08:38 [GMT+7]
Dinh The Nam will take charge of Viet Nam's U23 team at the 2022 U23 AFF Cup in Cambodia, replacing Park Hang-seo to allow the Korean more time to focus on the national team.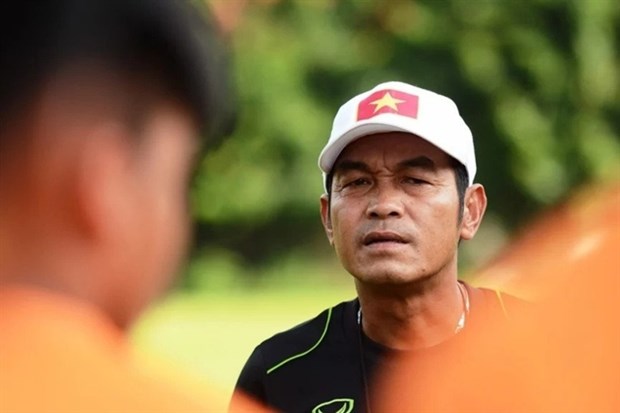 Dinh The Nam will replace Park Hang-seo managing Viet Nam's U23 team at the 2022 U23 AFF Cup held in Cambodia from February 14 to February 26. (Photo: thethao247)
The decision is to reduce pressure and workload for the Korean manager as well as enhance the preparation for the 2022 U23 AFF Cup.
"Because Coach Park will leave the position of U23 Viet Nam head coach after the 2021 SEA Games, we must prepare a plan for the future of the youth team," VFF representative told Thethao247.
One of the reasons Nam was selected is because of his experience and achievements at the youth team levels.
Under his management, the 2001 born generation had many players from the U16 team that reached the quarter-finals of the 2016 Asian Cup in India.
However, Nam will most likely only lead the team in the tournament in Cambodia, then will hand over the position to another manager.
The U23 AFF Cup, which will take place from February 14 to February 26, is considered as the "Mini AFF Cup" for Southeast Asia's U23 teams where potential talents are observed and selected for slots in the national team in the future.
Viet Nam is drawn into a "group of death" with Thailand and Singapore while group A includes hosts Cambodia, Timor Leste, Philippines, and Brunei. Group B has Indonesia, Malaysia, Myanmar, and Laos.
Teams will compete in a round-robin format, selecting the top teams in each group and one second-place team with the best results to advance to the semi-finals. Matches will take place at Morodok Techo and Prince stadiums.
The tournament was planned to be held at the end of 2021, but because the 31st SEA Games was postponed to the summer of 2022 due to the COVID-19 pandemic, the U23 AFF Cup was also delayed.
The U23 squad will meet in Hanoi on January 5 for training.
Source: VNA
.